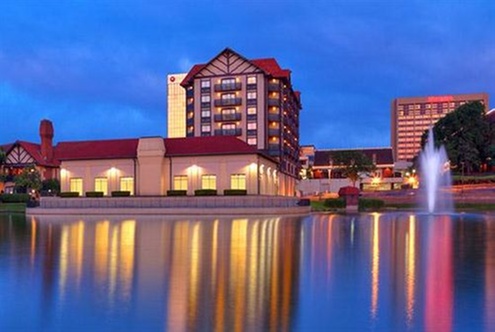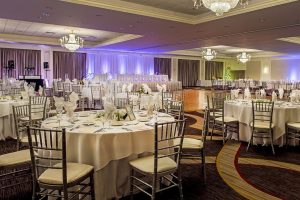 Sheraton Westport Chalet Hotel
191 Westport Plaza
St. Louis, MO 63146

Start planning now for the 2021 MRFA Reunion in St. Louis, MO.  Registration will open on the morning of Thursday September 16, 2021 and the reunion will end on Sunday September 19, 2021.  
You will be able to start making reservations on October 1, 2020.    Please make sure to reference the MRFA when making your reservations.  You can make your reservation on the hotel webpage setup for our MRFA by clicking HERE.
You can also make reservations by calling 1-888-627-7064 Monday thru Friday.
The cutoff date for reservations is August 25, 2021.

*** Click HERE for a Fillable Registration Form. ***
*** Click HERE for a Fillable Flight Form for Airport Pickup. ***

The room rate for all Sheraton Westport Chalet rooms will be $134.00.  Room rate will be honored from September 10-23.  All registered guests at the Sheraton Westport Chalet will also receive a great Continental Breakfast with 3 hot items each morning at the hotel.  As this is included with the room it is only available for registered guests for free.
There will be free daily shuttle service from the airport. The shuttle stops at both terminals.  Hotel shuttle pickup will be every half hour from 5:30 AM to 11:00 PM daily. This regular airport shuttle is not ADA approved.  A flight form is included here for those who need an ADA approved bus for airport transportation.  PLEASE SEND THAT FORM TO FRANK JONES for co-ordination using his contact information below.
We have also arranged for a bus to transport our guests to the St. Louis Downtown area and the Mall. This bus is NOT ADA accessible.  The bus will run Friday from 10am to 4PM and Saturday from 1PM to 5PM.  There will be an optional bus that will take you to the Missouri National Veteran's Memorial in Perryville, MO on Friday at 10am.  It is a replica of Vietnam Memorial Wall in Washington DC.  Please note that there is an additional per person charge when making your bus reservations for the Missouri National Veteran's Memorial.  We encourage all people to pre-register using the registration form.  No On-Site registration is accepted for the Missouri National Veteran's Memorial bus.  An ON-SITE upcharge for not pre-registering for the reunion will be charged for those who decide to wait.  Those who pre-register and request a refund prior to two-weeks before the event, will receive a full refund.  There will be no refunds after that.
The hotel is Dog Friendly. A one time cleaning charge is charged by the hotel.
There are plenty of restaurants both on and off property, locally, to have lunches and dinners.
The hotel parking is free.  RV parking is allowed on the outer edges of the parking lot in the designated area only for registered guests.  No AC power is provided.
We are hoping this will be the best reunion yet! More information to come.
Any questions contact Frank Jones at 314-303-2730 or mrfatango48@gmail.com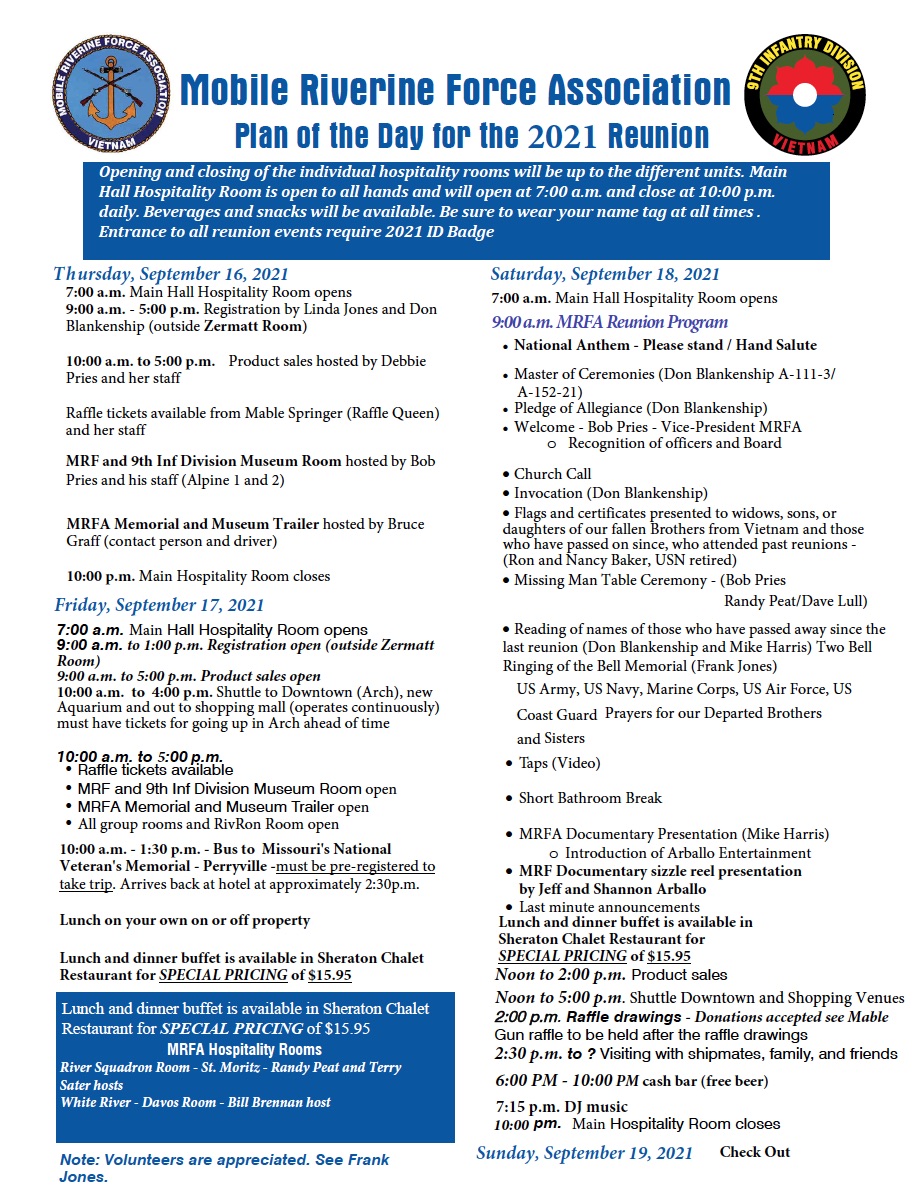 If you have any Questions or Input then please contact:
Frank Jones
mrfatango48@gmail.com

Cell: 314-303-2730