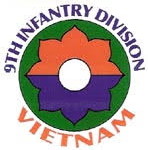 By virtue of the authority vested in me as President of the United
States and as Commander-in-Chief of the Armed Forces of the United
States I have today awarded
THE PRESIDENTIAL UNIT CITATION (ARMY)
FOR EXTRAORDINARY HEROISM
To The
1st Brigade, 9th Infantry Division
Comprised Of
Headquarter and Headquarters Company
2nd Battalion, 39th Infantry-2nd Battalion 60th Infantry
and Attached Units
Company A, 15th Engineer Battalion-1st Battalion, 11th Artillery
UNITED STATES ARMY
The 1st Brigade, 9th Infantry Division, and attached units distinguished themselves by extraordinary heroism in connection with military operations against hostile forces in the Republic of Vietnam during the period 7 March 1968 to 22 June 1968. The 1st Brigade, 9th Infantry Division with attached units reopened and secured Highway 4, the vital link between the Mekong Delta and Saigon, in Dinh Tuong Province and conducted operations against main-force units operating in the area adjacent to Highway 4. In a series of operations, the 1st Brigade, with Company A, 15th Engineer Battalion (Attached) and the 1st Battalion, 11th Artillery in direct support, located and engaged superior enemy forces in some of the most difficult terrain in Vietnam. The swift, decisive and fierce actions of the maneuver and supporting elements annihilated three well equipped and well trained enemy battalions. The 1st Brigade succeeded in driving the Viet Cong from their traditional base areas in central Dinh Tuong Province. During these actions, 629 Viet Cong were killed and 144 captured along with 184 individual and crew served weapons captured and destroyed. The 1st Brigade's success in reopening Highway 4 restored use of this vital communications link to the Vietnamese populace. By their determined display of initiative, professional skill and extraordinary courage, which was in the highest traditions of the military service, the men of the 1st Brigade, 9th Infantry Division and attached units reflected the utmost credit upon themselves, the 9th Infantry Division and the United States Army.
Signed by President Richard M. Nixon 7 October 1969
Stanley R. Resor, Secretary of the Army 7 October 1969