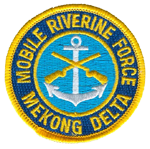 100 entries.
Sgt E-5, Plt Ldr at the time. In Echo C o. 3/60 Inf. In water up to my neck most of the time. 4/67 - 4/68 .
I'm looking for Robert H. Johnson who was in the USNR around 1965 in Nha Trang. I have his dog tag but that's all I know about him. I'm helping my dad find his father because we have never met him before. Please contact me if you know him. Thank you so much.
served aboard tango 151-14 may 69 to may 70 rate was engine man was the port twenty gunner
I was a Corpsman and sent to SOD to relieve Doc Beaver. I arrived at SOD just after the barges were refloated. When I landed I was greeted by a stretcher with a Vietnamese women on it who was in cardiac arrest from an overdose, I immediately started an iv and began doing CPR, I got a mouth full of vomited fish souse and rice into my mouth. I asked to see if we could get a Doctor from off one of the ships off shore and to my surprise and relief one came but then asked me why I had started and IV I knew I was in trouble and never asked for help again. I was with SOD when it was towed to New SOD and to ATSB Ca Mau at the old French outpost. I would like to hear from Davis, Porky, Pip, Chief Miller, and especially Chief Patanaude.. I was very proud to have taken care of such brave guys. I hope everyone has done well in life and that there is peace in your lives. Doc Daiute ATSB Sod, ATSB Ca Mau 70 -71
My father was Jimmy Ramey and he was the boat captain on PBR 64 in River Section 522 until they were ambushed on October 25th 1967. He sustained life threatening injuries and was flown to a hospital in Japan following this event. His boat was completely destroyed and sunk. My father passed away in 2011 and I am trying to establish contact with anyone that may have been on his boat and survived or someone that may have known him during his time on YRBM-16, or USS Epping Forest, or the USS Ajax. His service was from 1962-1968. Please contact me if you have any information that may be helpful. 770-378-2661 cell or by email at HankRamey68@gmail.com Sincerely, Hank Ramey
Served with C 3/17 and D 3/5 first tour 67-68 second 70-71. Looking for Bill Sage. We served together at Ft Irwin in 1968, he was a 9ID CIB 1st Lt. No idea what spot he served in the Div. I'd very much like to get in touch with him as I have an original oil painting of his that he might like to re-claim. It has been around the world with me and hung on many walls. thomasford99@gmail.com
Hello. I'm a volunteer looking for photos of servicemen killed in Vietnam. Those photos will be posted with their profile at vvmf.org. I'm looking for SN Nicholas I. Pyle, Columbus, Ohio. He was attached to Flotilla One from 1967-69 and died 23 February 1969. Anyone with a photo please contact me. Best regards.
Was aboard USS Askari ARL 30 from 70-71. We were at Dong Tam most of the time but went to Vung Tau, Binh Thuy and Song Un Doc and sea float. Rode the Askari to Guam and put it OOC and turned it over to the Indonesian Navy. We repaired all the heavies Alpha's and Tango boats. I was an ENC in R-2 Div and had the inside and outside EN shops.
Each new year renews memories of Doug Morton, whom I served with on M-91-3 in early 1968. Our crew took over the Monitor in 11/67 and was relived in 11/68. Doug joined us early in 68. We survived Tet with no casualties and felt very fortunate. On 4/4/68 in a nasty firefight at Kien Hoa our main turret was hit by a rocket injuring 2 and killing Doug. Doug Morton was an extremely gentle soul and his death, our first and only on our boat, was devastating. While subsequent engagements led to numerous crew injuries, the loss of Doug Morton is a memory that will never fade.
Yesterday, Jan 13, 2018 five member's who served together with Company A, 4th Bn./ 47th Inf. Mobile Riverine Force 1968-1969 came together in sunny Florida for a mini re-union. It's been almost fifty years since we seen each other, but it was like yesterday as Bob McMillan, John Gallo, Bill Chase, David Mack and Tom Currie came together with memories of our time in the Mekong Delta. Hopefully, our paths will cross again. God Bless America!
Please have Gunner Stanley contact me at my email. I was stationed with him in the early 80s. Thank you. Brad
Aboard 67 thru Nov 68,ask Al Moore how you get the weavels out of the bread flour!
Incountry Nov 67 - Apr 68. 3/E/4-47. Attended my 1st reunion last September. Looking for Information on47th Reg Reunion. Doesn't seem like it, but it's been 50 years.
Veteran of B Company, 1-26th, 1st Infantry Division. In April 69 we departed Phu Cuong on a joint MRF up the Saigon to the Ben Suc area. One of the more memorable operations I experienced. Great site. Trying to find more info on the Phu Cuong base and records of operations from there.
Medic, 2nd Plt, D Co, 3/47th Inf, 9th Inf. Div. Feb - Aug 69. Just wanted to let you all know I think about you often and wish you all the very best this holiday season. I am very proud to have had the honor to serve with you. Go Army, beat Navy!
Coxswain T-111-10 Feb. '68~ July '68, Boat Captain A-111-1 July '68~ Dec '68
I enjoy reading about and seeing all of the photos of the MRF
Reporting that David Arthur Wethington, ET3 passed away on October 27, 2017. I knew David when we served aboard the USS Whitfield County LST-1169. A nice guy that lived life to the fullest. RIP shipmate.
My Dad David Mead served in Vietnam as a Wireman in the 2nd Brigade 9th Infantry Division in 1968(?). He didn't really like to talk about the time he served much, but I know he was very proud to say that he was part of the 2nd Brigade 9th Infantry Division. He passed away in 2009 suddenly. He left us with so many great memories, but there was always that part of him that he didn't want to share. I truly appreciate all of you who served, and I know how hard it was when you came back. Before he passed away he was finally ready to deal with a lot of the things he saw over there, but was never given that opportunity. Thank you for your service and sacrifice.
Song Ong Doc, HAL-3, Det-6.... I was at Song Ong Doc, on October 20 1970... There is an error in LCDR Lee Wahler USNR account of the two Det 6 SeaWolf Helicopters, They were sitting on the helo pad when the attack occurred. During the attack Det 6, "Scrambled" and provided rapid air support while the attack was still very much in progress...I "kid" was sitting?firing from the right door of the trail helicopter with a birds eye view of the battle. Det 6 rotated off coverage with Det 1 when we required fuel and ammo at Solid Anchor..We stayed airborne above SOD, (As well as landing the lead bird at night for rescue of persons still on the ground) until daylight, then landed at SOD before going out to the LST Garret County. There is much more to this story then told here...(kid, Det-6 Gunner/Crew-Chief, witness)
Looking for John Barentz EN went to nam in Jan 67 Any one know John, Larry G EM is looking for hime
RivRon 11 Div 112 Boat T-112-3 1968-1969
I was in the Annapolis Hotel on July 10, 1969 but do not recognize the other sailors. I was on the YRBM-21 and am surprised it is not on your list of vessels. We were anchored up river from the USS Benewah for a number of months on the Mekong River. One of their PBR's were responsible for the renaming of our Beer Barge to the "Last Chance Saloon". The river had changed direction, so they went into Cambodia instead of back to their ship.
The reunion was a bust for us ( wife and me) when we got to the hotel after a 5 hrs drive was told no dogs. When I made reservations that they took dog $50 deposit So we turned around and went back to Tenn.
Plank owner Riv Div 92 T-92-7 in country Fed thru Dec 67. I like the new site design . Wants a " RIVERINE " always one ! Hope to hear from some of my old crew.