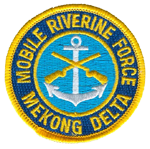 122 entries.
US Navy, YFR-885 based at Nha Be 1967-1968.
My name is Russ Hallauer. I was Seawolf 13 on Sea Float from October 1969 to September 1970. I'm trying to contact Robert H. Stoner regarding an article he wrote describing Sea Float/Solid Anchor in 2012. Please have him contact me at my email address. Thanks
Hello. I was GMG 2 on Alpha 91-3 before transferring to Alpha 111-3 when we turned the boats over the Vietnamese's navy during 68- 69. I just found your site and interested in joining the association. Please send Info.
I came across your web site while looking to see if there was a reunion for the MRF. I served 2 tours in country 66- 67 was in Danang I was attached to Harbor security in a mk5 picket boat. Second tour was in 69-70 I was attached to rivdiv 132 on CCB 2 as gunner then took over T 24 as boat captain.
9th Infantry 66-67 Anyone know of a contact # for the CCB-18 site in San Diego? We will be visiting there soon & would like to pay our respects.
Dear Friends, I am the daughter of LCDR Allan R. Smelley who served as CO of River Division 551, 'Delta River Devils' from OCT 69 - OCT 70. I am searching for information about Daddy for an article I am writing about him and also, for personal reasons. Daddy was killed when I was only 8 years old in the summer of 1972 while he was working at LLNL. It was a great blow to his entire family, but none more so than to my brother and me. If any of you gentlemen have photos of 'Big Al' or stories to share, please feel free to send me an email at drcherylgarrett@gmail.com. I would greatly appreciate it. Thank you so much for your service to our great nation and for all your sacrifices. Cheryl L. Smelley-Garrett, PhD
I was a clerk at HHC, 2nd Brigade, 9th Infantry Division from November 1968 until July 1969. Stationed on the USS Benewah. Served under Colonel R.C. Rainville. My address is 2204 Mecca Road, Austin, TX 78733 This email address is not current but working on that. Would love to hear from some of these folks if they are still around.
I am interested in joining the association, drove a small craft from the USS Oklahoma City and USS Cabildo
Was on alpha 132-1 in 1968 and 1969 looking for Melvin Ott and Bob Garza served in river assault squadron thirteen river division 132
from Uhrichsville Ohio live in CA were retired was BU3 in Naval support activity Saigon 1971 went throw out Viet Nam and Cambonia worked with a great bunch of guys.
I was a member of the Underwater Demolition Team 11 Detachment that rode the USS Nueces. On 15 Sept 1968 while I was riding on ATC 111-13 the group, RAD 111, got ambushed at 1110 that morning with automatic weapons fire and rockets about 5.5 miles SE of Ben Tre (Rocket Alley?). Myself and another team mate were medivac'd by helo once things calmed down enough and that ended my tour with the MRF. Great bunch of folks in that group and very courageous.
I served as a commissary member on the USSCOLLETON from1967 to 1968.I would like to hear from other shipmates that served at that time.
Niece of Anthony P O Reilly 1sr Lt who served in Vietnam 1967-June68 9th div 39th when he was killed.He was Irish.He had a 2 yr old son with a German woman Alexa .son was born in Frankfurt ,possibly moved to U.S .His son Tony Jr would be 52 now.any info would be appreciated from anyone who knew him.Thank you! - Ailbhe Mcloughlin ailbhemcloughlin[@]gmail.com (remove [ ]'s)
Served at sa dec ranPBR 84. Would like to find a photo of the painting that hung over the bar in EM club. Lt Laipilly knew that I commissioned an army guy to paint it so he allowed it to hang. Tom Buckley
I was a helicopter pilot with the 9th Aviation Battalion, Jayhawks, from October 1968 to August 1969. I had the opportunity to land on most of the ships assigned to the "brown water fleet", flew countless "eye in the sky" hours over the river boats, and extracted countless wounded from their decks. I've written a few books on my experiences in Vietnam many of which included interactions with those who valiantly served as members of the Brown Water Fleet. I would like to commend the MRF Assn. for their dedication to preserving the history of an unpopular war and recognizing those that served their country honorably. As an author, the MRF Assn. website has been an incredible resource for information.
Hi, this is directed to Joseph Callaway, author of "Mekong First Light". I was an FO with battery A 2/4th arty from -11/5/1967 until 1/1/68. I was then night duty officer for the battalion FDC until early April when I was assigned to be an advisory for the Queens Cobra regiment. It soon rotated back to Thailand. I was then assigned as MAT team leader in I corp. I write because he mentioned the village of Anh Nhut Tan being overrun the night of 1/30/1968. That actually happened on 1/10/1967. I know because I was the FO on the land that morning. It was a horrific battle. We had 7 KIAs 30 some wounded. Myself included. The VC captured 5 of our 15 bunkers. One of the infantry platoon leaders received a Silver Star recapturing one. We found 14 VC kia's inside the perimeter. Unfortunately they had removed all the casualties outside of the perimeter. A Given I was the night duty officer and air-warning control officer during all of TET, I also no there were no major attacks on Anh Nhut Tan during TET. I wasn't relieve of those duties until early April when I was assigned to the Thai unit. Given the dates, it's possible I actually replaced Callaway.
I was stationed at IUWG 1, Unit 4 from July, 1969 to July 1970. The article I am submitting was sent to IUWG families and dependents in May, 1970: IUWG NEWSLETTER INSHORE UNDERSEA WARFARE GROUP CAM RANH BAY, REPUBLIC OF VIETNAM MAY 1970 VOL.1 NO.1 (Transcription by ren) LETTER FROM THE OFFICER IN CHARGE, Commander George H. Overstreet, USN Page 3 FEATURE Unit One-Vung Tau Pages 4-5 FEATURE Unit Two-Cam Ranh Bay Pages 6-7 FEATURE Unit Three-Qui Nhon Pages 8-9 FEATURE Unit Four-Nha Trang Pages 10-11 The INSHORE UNDERSEA WARFARE GROUP NEWSLETTER is the official publication of the U.S. Inshore Undersea Warfare Group, Cam Ranh Bay, Republic of Vietnam and is printed in compliance with NAVEXOS P-35 from funds appropriated by the Inshore Undersea Warfare Group. The IUWG NEWSLETTER is distributed to the officers and men of IUWG and their dependents. All statements and opinions contained herein are those of the writer and are not to be construed as official views of the Department of Defense. Officer in Charge: Commander George H. Overstreet, USN Assistant Officer in Charge: Lt. (J.G.) John M. Saunders, USNR Public Affairs Officer: Lt. (J.G.) James R. Harriman, USNR Editor and Photographer: Quartermaster Second Class John S. Brown, USNR Assistant Editor: Journalist Third Class James W. Fleming Jr., USNR A special word of recognition is extended to the Photographic Laboratory at the Naval Air Facility, Cam Ranh Bay, without whose assistance in providing photographic processing, this NEWSLETTER would not have been made possible. All photographs appearing in the IUWG NEWSLETTER are official U.S. Navy photographs. (Front Cover) Late April afternoon finds an IUWG patrol craft on board and search operations in the Qui Nhon Harbor. (Back Cover) A lone crewman keeps a firm grip on his weapon as he steps from junk to junk during corral maneuvers at Vung Tau. Page 3 Dear IUWG-1 WESTPAC Detachment Family, We are putting out this NEWSLETTER in an effort to bring our lives here in Vietnam a little closer to you at home. Our mission is to protect all friendly shipping in the harbors of Vung Tau, Cam Ranh Bay, Qui Nhon, and Nha Trang. We are not only engaged in protecting all friendly shipping against swimmer/sapper mining attempts, but also by checking hundreds of junks each month we help to cut the enemy supply routes and disrupt the contraband and black-market operations. To carry out this mission successfully in the face of the enemy threat and to maintain the continuous patrols in adverse weather requires considerable professionalism and dedication. The 500 officers and men of IUWG-1 WPD have met this challenge for over four years with great success, having had only one ship sunk in our harbors. Each of the units is now deeply involved in Vietnamization which is the process of training Vietnamese Naval personnel to eventually take over harbor defense. Our Vietnamese trainees have not had any English language training; neither have our men had Vietnamese language training. We accomplish our instruction through interpreters in the classrooms and on the boats, where communication is of prime importance. Training is done through a word of Vietnamese here and there, pictures, and most of all, patience. The effort has been successful and our training significantly effective that in the near future we will be ready to turn over our first unit. The Navy in Vietnam has been aiding the Vietnamese, especially the dependents of their Armed Forces, by providing an economic subsistence program which will also help hold down the inflation in the country. IUWG-1 WPD is contributing by raising rabbits, poultry and pigs. This livestock will be turned over along with our units and the Vietnamese can continue to raise them for food or money. Other projects include dependent housing construction and agricultural development programs. You can be proud of "your man in Vietnam". He is doing an outstanding job and fulfilling a very important mission. Without secure harbors, the supplies to necessary to maintain our efforts here in Vietnam might never arrive. The swimmer/sapper continues to be a threat to shipping and requires the constant vigilance of our patrols. Let me take this opportunity to wish you a pleasant spring. I sincerely hope that the time will pass swiftly for you and that you will soon be reunited with your loved ones again. Sincerely yours, George H. Overstreet Commander USN Pages 4-5 IUWG UNIT ONE AT VUNG TAU GUARDS SAIGON SHIPPING UNIT ONE of IUWG-1 WESTPAC Detachment is located in Vung Tau, a tropical resort area of South Vietnam, and has a boat element in Cat Lo, roughly a thirty minute drive north. However, the serene beach atmosphere is shrouded by Viet Cong activity in the area. UNIT ONE has been engaged in keeping the harbor area under surveillance and has been responsible numerous times for restricting enemy attempts at sabotaging Allied installations and vessels and the running of contraband. An example of this occurred during May of 1969 when two boats responded to a swimmer sighting in the pier area. The EOD removed high explosives from the pier and a mine from the vicinity of a nearby ship. Two enemy swimmers were captured. UNIT ONE boats inspect almost 500 merchant ships each month, as well as 400 small craft during the same period. In addition to routine harbor patrols, UNIT ONE and the other IUWG units are involved in numerous civic action programs. These programs add to the ever-increasing "Vietnamization" process, and aid the Vietnamese in becoming more self-sufficient. One such program was the construction of housing for the Vietnamese Fourth Marine Corps Battalion and installing recreational equipment for their dependents. Like many other U.S. Naval bases in the Republic of Vietnam, the Vung Tau installation is scheduled to become involved in training programs for Vietnamese sailors. This type of Vietnamization will form the nucleus of the plan by which the base and its facilities can be effectively and confidently turned over to the Vietnamese successors. UNIT ONE, Vung Tau, is the only IUWG unit not situated at a major harbor entrance. The majority of shipping it guards is bound either to or from Saigon. UNIT ONE Photo Captions a. LCDR H.H. WOODRUFF, Officer in Charge of IUWG UNIT ONE based at Vung Tau, makes a periodic check on the coastal operations from the "Bridge". This is a communications and radar installation overlooking the Vung Tau "Roadstead" anchorage area. b. Personnel scatter as perimeter brush goes up in flame. This is done to prevent enemy infiltration of the"'hill". c. General Quarters drills and simulated enemy attacks are often a part of life at IUWG. It is important to constantly maintain an effective security status. d. Members of the Australian EOD detachment, headed by LT. R.S. BLUE, place a plastic charge over ordinance to be destroyed. This Australian group is the only one functioning with an IUWG unit in Vietnam. e. BM1 M.L. DAVIS and member of his crew re-assemble a twin 50 cal. machine gun mount aboard a picket boat at the pier facility in Cat Lo. f. Picket "27" moors to the replenishment ship USS CORPUS CHRISTY in the bay outside Ca Lo to apply finishing touches to the 50 cal. Gun mount. Pages 6-7 CAM RANH'S UNIT TWO PROTECTS MOST TONNAGE IUWG UNIT TWO, situated at Cam Ranh Bay, was established during the summer of 1967 on the site of an old French fortress and lighthouse complex. Since its inception three years ago, it has expanded to 150 men and 6 officers who are responsible for 35 square miles of harbor. At this time there are 14 patrol boats assigned to the unit. The fortress sight on which the Harbor Entrance Control Post is built is comprised of a maze of connecting underground tunnels. It was not only used by the French, but by the Japanese and the Vietnamese. During these earlier times, 5" and 6" guns were positioned here. UNIT TWO was responsible in 1969 for the protection of an amount of shipping equal in tonnage to that of Los Angeles Harbor for the same year. This month three men were recommended for several high awards for the discovery of an 80 lb. high explosive charge attached to a ship anchored in the bay. From the incomplete state of the charge, it was assumed that the sappers had been caught during their act. UNIT TWO Photo Captions a. LCDR WILLIAM B. DYER stands beside the remaining portion of an old French watch tower situated on the IUWG UNIT TWO hill overlooking Cam Ranh Bay. b. Maintenance for the engines of the "skimmer" boats is an almost constant process. Below, four members of UNIT TWO disassemble a 40 hp engine for inspection and repair. c. With underwater grenades exploding behind them, the "skimmer" crew makes their rounds at the pier area keeping VC sapper teams away from the boats and ships. d. At right, FRED EPPERLY BM2 plays pitching position for UNIT TWO'S championship softball team. e. To circumvent the problem of climbing the 268 steps to the "hill", UNIT TWO has installed a lift to transport supplies and equipment to and from the facility. f. ET1 SELLERS and LCDR DYER discuss the current security situation in the tower from which radio and radar surveillance is constantly maintained with the entire Cam Ranh Peninsula. g. C.L. Todd CS1, Mrs. BAI and R.D. BOLLINGER CS2 prepare a salad in the galley before dinner. IUWG units boast some of the finest food in Vietnam. Pages 8-9 QUI NHON UNIT HEADS EFFECTIVE VIETNAMESE TRAINING A SEA COBRA EFFORT IUWG UNIT THREE at Qui Nhon participated in a number of encounters with the enemy during 1969 and 1970. Operating with the elements of the U.S. Army, Vietnamese Regional Forces and Army of the Republic of Korea, IUWG'S RECONDO Teams, known as "SEA COBRAS" put a sizeable dent in the Vietcong's' offensive artery. The SEA COBRAS on many occasions cleared many V.C. strongholds yielding quantities of enemy stores, weapons, ammunition and secret documents, as well as destroying bunker complexes. UNIT THREE has not overlooked civic action programs, having provided medical aid and psychological operations in the Cam Cu Mong River Basin. (This has been) in addition to distributing clothing in the Hai Minh Village, and performance of harbor patrol operations. UNIT THREE Photo Captions a. QUARTERMASTER CHIEF JAMES F. WALLER instructs Vietnamese trainees during classroom navigational exercises at Qui Nhon. These Vietnamese are a part of those who will assume the IUWG base after turnover is completed. b. An "LCPL" patrol craft ties a Vietnamese junk alongside in the harbor during boarding and searching operations. Junks sailing too close to shipping anchored in the harbor or moving in restricted waters are prime targets for search by the IUWG patrol units. c. Maintenance and repair facilities are situated throughout the base as well as on the pier area. Above, American and Vietnamese ready their boats prior to getting underway for morning patrol. d. "A lucky catch!" This sailfish, estimated at 270 pounds, was seen aboard a Vietnamese junk during harbor searching operations. e. EDWARD J. GRYA JR. ETR2 is presented the Bronze Star for his leadership in the SEA COBRA strike group by LCDR H.L. BARNES, Officer in Charge of UNIT THREE. f. (Below) LCDR TRUAT (Vietnamese Navy) and LCDR BARNES look over two of almost 100 rabbits at the hill. The animals are part of an economic subsistence program being developed for the Vietnamese in anticipation of the future base turnover. g. Depicted here are the three types of combat operational IUWG patrol craft. (l-r) LCPL 36' single diesel boat, a SKIMMER which is 16' in length and capable of reasonably high speeds with its 85 hp engine, and the 45' PICKET BOAT powered by two diesels and having double cabins with an armament of a twin 50 cal. Machine gun mount. Pages 10-11 UNIT FOUR NHA TRANG PATROLS ISLANDS UNIT FOUR, situated at Nha Trang, is the last of the four units operating in the harbors of South Vietnam. Its RECONDO unit was formed early in January 1969. Although it never made contact with the Viet Cong, it successfully interdicted enemy movement on the islands off the coast of Nha Trang. Unit Four has provided extensive help to the Vietnamese people through its civic action assistance. Outstanding of these programs was the providing of surplus food to supplement the limited diets of Vietnamese inhabitants of the region. Much of the Civic Action Assistance was directed towards school children. Included was a Christmas party for the children. It is through efforts such as this that the IUWG units have extended the hand of assistance to the Vietnamese in a sincere desire to promote a realizable and lasting peace. UNIT FOUR Photo Captions a. LCDR W.G. MURPHY, USN, explains the position of the Panamanian cargo ship, KIN WAH (left) which was sunk by V.C. sappers in the Nha Trang Harbor. Poor waterline illumination and lack of cooperation with IUWG by the crew of the KIN WAH are attributed to the sinking. This is the only vessel to be successfully sunk by the V.C. in waters under the jurisdiction of IUWG. Since it is sunk at an anchorage site, its position does not hamper the shipping channel. b. This view of the hill shows the HECP tower and the surrounding building on the base. In the foreground is situated the boat pier with an LCPL recently overhauled and currently in use as a training craft for the Vietnamese on board. c. From his position in the tower, FRANK BABCOCK ETR2 can view the entire Nha Trang Bay. As with several other IUWG units, the tower dates back to the early French occupation. d. LT (J.G.) DALE WATERMAN displays two of several dozen chickens being raised as a food subsistence program for the Vietnamese. Each IUWG unit is maintaining some similar project. e. G.Green SM2 and R.HANDY GM3 paint down a remodeled skimmer which is used in UNIT FOUR RECONDO team missions. These missions, begun in January 1969, aided deterring the movement of V.C. in the Nha Trang island area.
Just catching up with any old friends. I was one of the SEA COBRAS in Qui Nhon IUWG-Unit 3 from Nov. 1969-June, 1970. I was Operations Officer, then XO prior to turnover in June, 1970, then stayed as Senior Advisor to the unit with Naval Advisory Team 42. Left country in June 1971, went to law school. and joined the FBI. Retired in 1998. I am in contact with several shipmates, but would love to hear from (new) old ones.
I was a part of the Seabee team that came from MCB 10 to build the support base at Ben Luc. Quite a challenge and many great memories. We finished officially in July of 1969 and the Battalion returned to Port Hueneme, Ca. I was discharged August of '69.
"TO THOSE WHO HAVE FOUGHT FOR IT, LIFE HAS A FLAVOR THAT THE PROTECTED WILL NEVER KNOW!" Ken, I came upon your site while surfing the net and knew that the above statement would have special meaning for you. Serving with 9th Infantry division in the Mekong Delta AO in Vietnam required a special type of courage. I served with 3/22nd, 25th Infantry Division out of Tay Ninh as an infantryman. Fought the NVA on the slopes of Nui Ba Den twice with numerous firefights in and around the area bordering the Cambodian border. The cover photo on my site looks out the front window of a Huey onto the Black Virgin Mountain. Remember your Christmas in Vietnam? Mine was spent on an ambush patrol near the Cambodian border. After 5 months in the field and numerous firefights, I was pulled to the 93rd Evac at Long Binh to work with soldiers suffering from combat fatigue. Over the last 10 years, I chronicled my tour of duty and the response has been overwhelming. There are presently over One Hundred 5 Star Reviews worldwide I believe that you will relate to this true story of the fight for Nui Ba Den and the struggles and sacrifices that the soldiers who served their country in Vietnam endured. Thousands of Vietnam Veterans have proudly endorsed these memoirs. Please check out the website at courageonthemountain.com with the accompanying introduction. It will make you proud for your service and all the men and women who served our country during the Vietnam war. I proud that you made it home brother! Thank you for your service and May God Bless!
mobile riverine force taskforce 117 div. 111 sq. 11 tango 111-7 rate gmg2 1967 tru 1969
My name is Luis Reyna from the 6th/31st Bravo Company 9th Infantry Div (March 1968 - April 1969) The 6th Battalion of 975 soldiers arrived March 31, 1968 in Vietnam. Our first stop was Bearcat Base for basic orientation. Once our barracks were completed in Dong Tam we commence to support the Navy Mobile Riverine Force. Our support was single missions through the Mekong River in Delta. Most of our missions were via helicopters or walking most of the time. Our battalion lost about 235 soldiers during combat operations. 25% to 30% foot soldiers were wounded during missions in 1968.
Sgt E-5, Plt Ldr at the time. In Echo C o. 3/60 Inf. In water up to my neck most of the time. 4/67 - 4/68 .
I'm looking for Robert H. Johnson who was in the USNR around 1965 in Nha Trang. I have his dog tag but that's all I know about him. I'm helping my dad find his father because we have never met him before. Please contact me if you know him. Thank you so much.
served aboard tango 151-14 may 69 to may 70 rate was engine man was the port twenty gunner