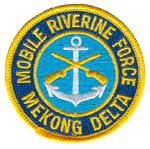 238 entries.
August 1968 on Benewah Barrics ship off Dong Tam. I survived the transport to Tigers Lair, 10/68-7/69, RTO point, two CO's, SIX booby traps, hot LZ's, Agent Orange, substance abuse, the PTSD, (a fact of war). ONE thing, I met the Buddha there. Almost 75, still here Feb 2021. Also: respects for Pete Bythener.
My brother GM2 Leslie Haugness was attached to RivRon 112 passed away January 28 2021 from Panratic Cancer.
"To those who have fought for it, Life has a flavor that the protected will never know!"-Vietnam soldier saying- Mission accomplished!! Courage on the Mountain-Captivating, True, Free on Amazon Prime- Glad that you made it home Brother! courageonthemountain.com
I have been given several photos taken in the Tiger Lair during an operation in 1969. Peter Bythiner the photograhper for the Ninth Infantry Division who recently passed took the photos. I would love to submitt then to your association if they represent this Association. Peter and I became good friends when I locate him in the early 90's. With Honor and Respect, Ernest Saldivar, Second Platoon, Delta Company, 5/60th Infantry, 9th Infantry Divsion, Rach Kien, 1969.
To, Gene Dickey from Mocksville: on January 10, 2021 you asked a question about Howard Brown. I was there the night Howard Brown got killed. Were in different squadrons so I didn't know him well, but I knew who he was. He was a PBR Sailor and I was on a Monitor so so we didn't work together. We were working out of Ben Keo, A small ATSB (Advance Tactical Support Base), in Tay Nihn Province. That night we were about maybe 2 kilometers from the ambush site so when the fight started we were sent in to help. When we got there we sat in the middle of the river in between the disabled PBR and the other side of the river. We provided cover while other boats recovered the disabled PBR and moved Brown to a boat with a helicopter landing deck. He was in a gun turret with 2, 50 caliber machine guns. Fighting on the rivers at night meant shooting at muzzle flashes. We could see the shooters but we could see the muzzle flashes when someone fired a gun. When the shooting started, Brown lit up his 50s and someone shot between his muzzle flashes. He was a good Sailor, he went down fighting. I don't know if this helps or hurts but this is what I recall. Somethings are hard to forget. Paul Ray River Assault Division 151 Paulray2@cox.net
For Gene Dickey... I was there the night Howard Brown got killed. I was in a different Squadron and a different type of boat. We provided cover for the recovery of the disabled PBR. I knew him but not well.
Friend and fellow Cub Scout member of Howard E. Brown, Jr. , KIA 9 January 1970. I know it is a longshot but I was wondering if anyone associated with this page would have any memories of him. He deployed on 16 October 1969. He was the forward gunner on a riverine minesweeper and killed by enemy fire. He was an only child and his father eventually committed suicide in despair. We maintained correspondence with his family for some years but eventually lost contact. From 28-yr Army veteran.
On 5 February 1968, Petty Officer 3rd Class Vernon Parr Smith died in Quang Tri Province, Viet Nam. He was assigned to NAVSUPACT Da Nang, YFU-67, USNAVFORV. His is also the only name on the Wall in Washington, D.C. who is listed as being from the State of California who does NOT have a photo on the Wall of Faces. The wall of Faces project is trying to put a face to every name on the monument. We have been looking foe Vernon's photo for several years with no success. His parents are dead, his sister does not have any pictures of hin, his aunt has passed and his high school list him as no photo. Hopefully someone who served with him at YFU-67 in 1967-1968 will see this and be able to supply a photo. If so, it can be emailed to me or posted directly to his entry on the Wall of Faces website at https://www.vvmf.org/Wall-of-Faces/48629/VERNON-P-SMITH/
On LST-1150 Sutter County servering on the ship March 1967 thru March of 1969. Home port was Guam when we were lucky. Spent some time with TF-117 at base "A" when we relieved the Pitkin County (LST-1082). Being from St. Louis, Mo. I thought the Mississippi was large but its not that wide, longer yes!
Charlie company 3/47 Jan 68-Jan 69 2nd platoon ... replying to John Ledsome - were you "blondie"?
i,m like what haPPEned to the guys they medevaced out of the field in TAN TRU long an province? winter spring 1967? 2/60 battalion long an province/ saw thE duffel bags neveR sAw them again its sad having to find out december 16, 2020 .that we had a 60 percent casualty rate in vietnam amoungst 3rd bdge and we didn t know doing insertions and by choppers jitter bugging an lcts
Still hoping to hear from William Mack. We must have been at Dong Tam at the very same time. Anyone else know him?
3rd Bn. 34th Arty. C Batt. FDC 10/67 -- 12/68
I served from aug 1968-aug 1969 with the 1097th transportation Company out of dong tam. I was an LCM coxswain on a command LCM, prisoner LCM, supply LCM. and a 105mm arty barge towing LCM. I find nobody knows of the army's part in riverine operations but most everyone has heard of the navy's "brown water squadron's. I am in the process of gathering facts and other information on the 1097th transportation company.
USCG SQ1 Div 12 DaNang RVN 1967 - 1969. USCGC Pt. Dume, Pt. Orient, and Point Gammon.
I served on the YFU-79 May 69 until I was transferred to the YFU-70 to take it to Subic Bay for refurbishing.
I am not a veteran. A couple of years ago I contacted you about my cousin Steven M. Trivelpiece. I lost all of the info you had supplied to me. I want to reconnect with the person who was helping me, I think his name was Mike Harris. I would really like to finish what I started. I apologize for not following thru. Thanks for all of your efforts. Best Regards, Dan Miller
Looking for Corpsman PO Evan, he was stationed aboard USS Garrett treated the many wounded the night of SOD attack....any assistance with his first name would be most appreciated
I served aboard the YFU 80 out of Danang in 1970. I was a 2nd class engine man We hauled ammunition and supplies to Chu Lai, Perfume River to Hue And the CUA Viet river to Dong Ha. Really missed my boat mates when I left. If anyone remembers me please get in touch!!
Naval Support Cat Lo 67 - 69
Charlie Company 3/47, 9th INC. Div. Feb 1967-Feb 1968. I remember our unit moving from BearCat to Dong Tam around March 67. Our unit did operations out of Dong Tam and we also spent time up the Mekong River on the USS Benewah and the USS Carleton.
As an EM3, I went with Art Carter (EM1) and a few others . . . to Long Xuyen in the spring of 1966 . . . we were the advance party . . . helped get the place ready for the boats coming in. At the time my last name was Olivere . . . long story . . . went thru name change after leaving the Navy. Art passed on a few years back . . . just glad to say that my time in the delta probably was the most defining part of my growing up.
I served as a deck-ape on the USS Benewah from '67 - '68. My general quarters station was mount 42 and my on-watch assignment was either of the two 3-inch guns on the flight deck. During one rocket attack a second-class petty officer--serving as JOOD at the gangplank--sounded G.Q. He was "rewarded" at Captain's Mask by being reduced in rank to petty officer 3rd class. I too was at Captain's mask the same day for an offense much worse than his. I was--justifiably--also reduced in rank. In my case the reduction was from seaman to seaman deuce. The former 2nd-class P.O. was "reminded" at that Mast that he did not have sufficient authority to sound general quarters. I thought he got a raw deal. I still believe that.
I was a USMC Radio Relay operator (7 Comm Bn)it was in Spring of 1969 when another Marine and I were assigned to Bring a Radio Van to Vandergrift Combat Base in Northern I Corps.We were to Hitch a ride on a YFU to Dong Ha and Convoy The Rest of the Way.We Boarded the Boat in Da Nang in The early evening. The Crew were Great Guys and treated us great.They Fed US and I Couldn't believe the Ship was so nice .One of the Crew told me to Take a rack and I remember I slept Real Good.I woke in the early Morning when The boat Unloaded some Ammo to a Ship ,I remember it was the St.Paul. We Returned about a week later and I don't remember too Much about the Boat returning to Danang except I know I did not get a "rack' and i slept on a bench in the Galley area.It was a diferant Boat than The one We went North with. To end The story it was 51 yrs ago and I still remember The trip on The YFU going to Dong Ha.It was one Of The Good things I remember about My 13 Months in Country.