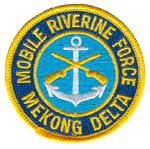 151 entries.
Hello Everyone, I served as a grunt with the 3rd/39th/9th Inf from May68 until Aug69. Started out operating around Bearcat then moved down to the Mekong Delta where we operated with you fine gentlemen of the Mobile Riverine Force on the Tango boats. Will be attending the reunion in Nashville
I've been a proud MRFA member for going on 20 years now having served with Charlie Company, 4th/47th, 9th Infantry Division from when it was first reactivated to train for combat at Fort Riley, Kansas, for the Vietnam War in May 1966. I served my entire tour of duty departing on or about January 6, 1968.
served as securiy at phouc xuyen atsb from sep 70-feb 71. anybody remember this dump?
my dad served on the uss mark im not certain of the years but he ran supplys up the river he went by C.D Townsend and he was very proud of his service and the men he served with .
BM3 Floyd Schoening, ACU-1 ('67-70), As his VA Rep I am trying to find guys who can verify his WestPac time, especially boots on ground or up river. He was on LCU?. Please contact the office: (920) 388-7198 or email cvso@kewauneeco.org but please mention Floyd by name as we have many messages out for different veterans. Thanks, Jane B, CVSO SFC (Ret), US Army/Army Reserve For free help with VA claims find your nearest CVSO/VSO at: https://www.va.gov/ogc/apps/accreditation/index.asp VSO Rep
Was with RAD 112 in 69 on T112-13. Graduated NIOTC Class 32R. Thinking about joining the association
Waitress at Stockton Alabama showed me a hat for veteran of WW2 USS LST 836 . IT WAS LEFT by mistake. Hope to get when out for missing hat. https://photos.app.goo.gl/VXhewcXYx9kokwT48 I am ussocallahan org
I started out with IUWG-1 out of Long Beach, CA. I was with the ASPB in Dong Tam/Mekong Delta. I was on A-112-3 the Linda Sue. Boat Capt. Jerry Jones, Engineman Braanstead, 20 mm cannon gunner, Quinlan, I apologize for not remembering our Radioman from Alaska. I was the twin 50's front turret gunner. 1967-April 1968.
Hello from Florida-- I am a " plank owner " in River Assault Division 112- served on board C C B 112-1 March 1967 - Feb 1968. I have lost contact with all of my boat crew as most have died of cancers. It was a pleasure to serve with all of you. I still keep in contact with Lt. Norman Wells, Riv. Div. 112 Division Officer. I can be reached at 904 2691857 or agnjustice@yahoo.com'
also served at atsb rach soi as radioman.me and john winston. apr70-aug70.called nsa pukes.
also serverd at nha be and phouc xuyen sep70-feb71 as security at phouc xuyen
rmsn rach soi apr70-aug70
looking for anyone that was aboard the YFU 89 out of Nha Be. Some on board were Paxton, Orischak, Woodall, memory is fading so if anyone else on board please let me know.
Probably a long shot here, but checking to see if anyone served or knew my grandfather John O'Brien. John served in the Mekong Delta and was in Xang Canal in March of 1968, he was a Lieutenant Commander at that time. Thank-you. Garrett O'Brien
US Navy Vernon County LST1161 NAM 1967 TO 1969
I was a member of the 1097th Transportation Company from June of 1967 to June of 1968 at Dong Tam and was a Vessel Supply Specialist. Our landing crafts ( LCM 8's) transported troops and also transported 105 artillery pieces on barges on missions in the Mekong Delta. Would be nice to hear from anyone who served in the 1097th during that time.
As an Engineman, rebuilt 6V53 PBR engines at LSB Nha Be mid-69-mid-70. Returned as an EN2 in Sep 71 with Naval Advisory group to ATSB Phuoc Xuyen. When US support ended there, transferred to ATSB Tuyen Nhon. Got an early DEROS in Mar 72. I'd love to hear from any Nha Be Snipes or advisors or SEALS from my advisor posts.
Deck officer on USS Terrell County (LST-1157) '64-'66. Looking to find shipmate Bill Locke of Alameda CA, who transferred to swift boats @ 1967
I was a medic in D, 3/47th in 1969. Just wanted to give a shout out to all my fellow Army and Navy team mates and wish you a Very Merry Christmas. Welcome Home!
Hello. I'm Michael Light. I served with the 9th MP CO - '68/'69. First at Tan An, then Dong Tam. While at Dong Tam, our 4th (I believe) platoon provided support & security for PSYOP'S & MedCap's in and around Go Cong & MyTho. Would appreciate hearing from anyone who may have also served with the 9th MP Co. Thanks!
Served on USS Benewah from Sere School to Panama to Vung Tau VN . 10/66 thru 04/67. Then it was on to USS Asheville PGM84 at DaNang, VN till 02/68. I was in the company of YN2 now CAPT WC Wright (Ret). It was a year of diversity from doing ET work to cutting Hair.
I found a Zippo under the ocean beach pier in SD CA in 1973 It has on one side the 9th patch engraved and below that is CHIEF below that is VIETNAM below that is 68 69 CO/D 4/47 on the other side then MRF above that on the lid is another engraving anybody know its owner
Brown Water Navy help sought I am doing research for a book about the crash of 242nd ASHC Chinook #65-0999 on 10 July 1970. It was delivering fuel bladders to Navy patrol boats on the Saigon River in the Mushroom area of the HoBo Woods. The aircraft was struck by 3 RPG's, crashed and burned. River boats picked up the survivors and moved them to a safer area for medivac. I am looking for anyone on the two boats involved or know anyone who was there or witnessed the crash. Two crewmembers and seven passengers lost their lives in this crash. I am not real familiar with the Navy in this area as I am an Army vet. I don't know which units were operating here. Any help would be appreciated.
My father Wayne Meeks served from July 1969 to June 1970 as part of the River Assault Squadron, on the M-6 Monitor (Mekong Delta). Unfortunately, my Father is having memory issues. I would like to do something special to honor him. I remember him saying there was a monkey on the boat. I am looking for more information on the boat, pictures hopefully, and of course the crew. My Father had a camera shop, try to put all his pictures on a dvd, but they went out of business and we are still trying to locate the owners. Any help would be appreciated.
I got to Dong Tam in September 1968. Went aboard the YRBM-17 as a 3rd class shipfitter. I would like to hear from guys from the shipfitter shop. Left country September 1969. Going to try to get to the 2019 reunion.