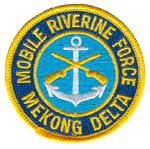 282 entries.
I ran across this site while exploring the web and low and behold found Seafloat! I built it!!!. In late May of 69 I took a Seabee team to Nha Be, my project was to build Seafloat. I was the Chief in Charge. I was given 3 weeks to build it. After 4 days of preparations, my team built all 7 hootches in 7 days on 7 Ammi barges. Upon reporting to a LT. he told me to get checked in and to check in our weapons. I immediately informed him that Seabees do not turn in weapons! He said, "if you're going to stay on this base Chief you will turn in your weapons." I suggested he call my CO Dutch Filbry in Can Rahn Bay. I heard one side of the conversation; "yes sir, yes sir" and hung up saying "you win Chief. I'm putting you and your team up at the Metropole Hotel in downtown Saigon" - we won, and we kept our weapons.
Helping Ted Morrow, Memphis TN, Boat T-91-13. Hope this is correct site. Served with Lonnie Rhodes, Jim Walton, Frank Locket, deceased, Patrick Unk last name, deceased. Trying to locate John Hall, 1967-68.
Repair department yeoman at Dong Tam from July 1970 until July 1971. Still trying to located William Mack who was at Dong Tam the very same time I was there. After Vietnam I was sent to Gaeta Italy and finished out my enlistment on the staff of COMSIXTHFLT aboard the USS SPRINGFIELD. The years have flown by for each and ever one of us but I will remember my Navy service with the fondest of memories. To one and all, thanks for your service and May God bless every one of you. Thank you one and all!
I served two tours with 9th Signal out of Bearcat, TDY as "Detachment One" to Vung Tau. We were net control and 'Naval Liaison', passing RTTY traffic among MRF and 9th Division in general. We also had microwave facilities and personnel at a site there humorously labeled 'VC Hill'. Initially we operated out of a 26D deuce-and-a-half rig, located out at the airbase wire. Swapping generators was pretty much the only time we felt we needed our weapons. By the time our unit was pulled back to Dong Tam for DEROS, we had gotten our site set up inside the Navy Warehouse compound, which was inside the Army compound, to further secure the "grey box" crypto gear. Running on commercial power. working in air-conditioned comfort, eligible for MidRats, with near zero rocket attacks at our particular site ... I pretty much shut up whenever vets mention the MRF!
I was stationed(attached) to NSAD Dong Ha from Aug until Apr/may 68. I was in our compound on Sept 3rd when the ammo dump went up. Our compound was on the south /east of Dong Ha right on the perminter. IAAnd about 50-75yards from the ammo dump. Probably further but on that day it seemed awful close. When the two largest explosions occurred our hooches were set back on their foundations about 2-3feet and the doors were blown in. I was part of the communications crew. In a trailer (truck) in a trench on the edge of thee compound. Being there was an experience. Sometimes we had to make runs down to Cua Viet with pouches of message traffic, Alco sometimes out to the hospital ships. Thanks for this website I was known as "Hawk".
I am trying to find a personnel roster for the 709th maint Bn from 1967 thru 1968.
Talked to someone while playing yahtzee online and they told me to check this out! Apparently he is a part of this 🙂 enjoyed reading about you guys and seeing the photos you have on here! Thanks for your service.
I was with A Company, 9th Infantry Division from 1 April to 15 Mar. I flew a UH-1 helicopter. I would fly the Brigade commander and staff on my helo. I would spend a lot of time sitting on the deck of the USS Bennewah ship as that was the Command HQ for the division. The Col didn't like to fly so when he did, it was always slow and gentle. Loved to be on deck on Sundays and would eat iin the Officers mess as they had surf and turf, or steak. You Navy perssonell always treated my crew and me with respect. I was wondering if you had the name of the deck officer who was responsible for clearing the deck and lowering the antenna when I called inbound to land. Thanks hope to hear from you.
Looking forward to the Mini-Reunion in San Diego this next week. Are there any 9th Signal BN Army/or Navy Signalman attending? Gerald E. Barney 9th INF., 9th Signal BN Vietnam 66-67
I am a plankowner U. S. S. Sterrett DLG 31,departed for boat handling school. Then to Vietnam RIVDiV-112 Feb. 68-Feb 69 (SN) Coxswain Tango 112-4.Dong Tam. Retired NR LDO LT. Would like to touch base with RIV DiV 112 members. Welcome home and bless all who served. Lake Charles, LA.
Thank you for your service I enlisted in Army 11/69 Spent all my time stateside and in the reserves but many of my infantry buddies went to Vietnam and had praise for Riverine Forces that they encountered. Thanks again for your service.
My dad Gary Oltz would have loved this site! He served on the LST-344 USS Blanco County. He was part of the refit and sail to Guam, and also patrolled the rivers.
I was attached to Beachmaster Unit One, Coronado Amphib Base Jan 68-Jun 68 Westpac Det Jun 68-Oct 68. USS Hampshire County (LST-819) Oct 68-Aug 69 as part of Mobile Riverine Task Force 117
I was part of the recommissioning crew on the USS Askari as a gunners mate striker. After a year I served on the Captain's gig. After that I left the Captain's gig & became 1st class gunners mate. I left the Askari in 1968 in Singapore. I would like to get in touch with anyone who remembers me. (AKA JC or Smitty} I used to live in Baltimore, MD & moved to Royal Palm Beach,FL in 2019. navybo47@gmail.com
E 3/60 E 4/47 1966-1967 Dong Tam
Ran night shift G-2 section at Dong Tam DTOC from November, '68 to August, '69. Edited and published the Division Intelligence Summary (INTSUM) every night in time for the morning briefing. My CO was LTC Len Spiritu. No Saigon night life for us...
RivRon13131t11 mark 19 gunner DECK APE
Stationed Sa Dec Adv Tm 65 Sept 67 to Aug 68 Intelligence Analyst and radio operator lived in a hotel in Sa Dec ate at Navy Compound because we were on separate rations I had to guide I don't rember if we were asked not to texture or if I worked so much I could get there the food was real good though. THANK YOU FOR WHAT LITTLE I ENJOYED
Spent a year in Sa Dec , RVN with PBRs.. looking for any other members of NSA base .... sailors, SEALS, Seabees, NILOs, Corpsmen , OPS center personnel.. I was in country from Jan 1968 until Jan 1969....... Where are you now?
I was on the USS Sterett DLG-31 in 1972 when she was off the coast of Vietnam. We mostly did duty on PIRAZ, and did a little on South SAR. I was looking at some other sites and noticed a few East Coast with duty in Vietnam. One was the USS Manitowoc LST-1180 in 1971 and 1972. I can't find any other information except that she was there. I was wondering if anyone had any info on this. Thanks again for this website and all the hard work that went into it. Anchors Aweigh!!
Hey out there this is Tony Campbell Ret chief and Frank Wojciechowski Ret Army / Navy LST 525 . Did you know there is an LST association Chapter in Washington St . It has been around since the early 1980's and have reunions every year if we can We'll probably go out of business soon if we don't get more members. Most members were from WW2 and Korea most are gone now. We have two meeting a year Spring and Fall. We have also changed our name to Washington State Amphibious Forces to open the field of member ship to all Forces that did Amphibious service navy, army, marines, coast guard, etc. I know the 9th infantry Div was well represented on the rivers in Vietnam and the brown water navy all boats there you are all welcome contact Tony Campbell Tony.Pat@comcast.net for more information and Frank Wojciechowski wojcie@comcast.net
I was stationed on the USS GRAPPLE ARS-7 from Jan. 1970 to Sept. of 1972. The Grapple would go to Vietnam every year from around 1967 till the end of the war, not sure of the exact dates. Volunteered for the brown water navy in 1972 but was asked to extend for another year as I was due to get out in 1973. My buddy went and don't know what ever happend to him. His name was Jovino Reyes. If any one knows his where about I would love to get in contact with him.
I was a member of Coastal River Division 11, then Plank owner for Special Boat Unit 11, Mare Island, Vallejo, CA from 1975 to 1982. I was the Boat Captain of CCB-18 from late 1977 to Oct 1982. I am very happy to see it is still serving as a visual reminder of the River Rats of the Brown Water Navy.
I found a 9th infantry Vietnam ring in my Grandparents house. Wish i knew who it belonged to Thank You for Services tendered God Bless
I served with RPG-59 as an advisor in Tan CHAU in spring of 1971. One night the repair ship out on the Mekong river near us was attacked . Does any one know the name of that ship ,I have a picture of the damage and remember some crew members were killed . thks