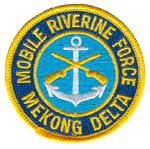 176 entries.
Medic, D, 3/47th 9th ID, 1969
Charlie co 3/69 army 5/10/68 to 5/10/69
Served onboard the USS Clarion River LFR 409, 1968-1971. Just got my order today, 8/26/2019. The VCCC pin is outstanding. Great work to the members who shear head this project. Sad that we aren't authorize to wear it with our uniform. I'm attending a Chief Selective initiation and pinning ceremony next month, (Sep 11-13), in Gulfport MS. Those chiefs wouldn't know what the pin represents. And thank you for accepting into the membership.
Really happy to have found this site. I'm probably going to bombard you all with questions about the war so when I get too much just tell me to shut up!
Was with A company 2/39th Infantry 1968
May the blessings be. C -Company 3/60 9th ID 66/67
I have the last flag that was flown on M-132-1 that was given to me by Doc Rather. I am framing it and would like any good photo of m1 and the crew list that was on it for tournover to put in the frame 409-988-4540
Hello everyone, I was in the first group to be barged up the Vam Co Dong river to Ben Luc and help the CB's finish setting up the base at Ben Luc for Operation Giant Slingshot. I was a diesel mechanic and my first duties on the base were as the Oil King in charge of fueling the boats and keeping track of the fuel on the base. One other person helped me, unfortunately I do not remember his name. I was On Duty 24/7 to make sure that when any boat came in needing fuel I had to make sure they got what they needed, as no boat was to sit empty when tied up just in case they had to make a quick exit. After about 6 months or so I was transferred to the overhaul shop and helped in the rebuild and overhaul of engines from those PBRs and others. I wish I had pictures and other items of that time there, but for some reason I didn't do that.
Hello, my husband Sgt. Harrison E. "Bud" Seward was with Mobile Riverines 9th Inf Div, Army, he is deceased 5 May 2001 of Agent Orange related illnesses......I just had a phone message from a lady named Kitty looking for my hubby, I would love to hear from his buddies from the service.......please contact me
"To those who have fought for it, Life has a flavor that the protected will never know" 25th Infantry Division -Tay Ninh- Cu Chi- 3/22nd Infantryman 69-70 Courage on the Mountain- courageonthemountain.com
USAF Forward Air Controller, 2d BDE, Dong Tam.5/67-5/68, except for a couple of short temporary duties to Bear Cat and to Vung Tau. Lost several good 2 BDE friends along the way, including CPT Bob Reeves, who was in my squadron at the Air Force Academy. Flying and working with the MRF as a FAC was one of my most frustrating and challenging assignments given the rules of engagement and the complexities of air/artillery fire support. But it was personally satisfying to be part of a historic operation.
Radioman USS Colleton APB36 all of 1968
yes i am planning on it and will bring my cruse book from the Askari
David are you going to the reunion in Nashville tenn. ?
on board the Askari for two tours 2/67 9/68 made the Singapore trip work in the AC Flats and boiler room
3/47 from November 1966 in fort Riley KS to April 1968 in MRF Dong Tam RVN Battalion surgeon, After all these years just met with 2 members of B company who remembered me treating their wounds. What an honor to be part of this great group of men who gave so much ! Horst S Filtzer MD FACS
Served with 1st. Platoon, A Company, 4/47, 9th. Infantry Division from Oct. 1968 to.Aug , 1969. I think in early July, 1969, most in my unit were sent vack.to.the states. Not sure why, but I remained in Vietnam until Aug. 20, 1969. At Dong Tam, an unknown fire base camp and back.to.Dong Tam.before my DEROS.
Hi all, first time on the site, I served in the Delta, out of Dong Tam , from 1/69 thru 6/70!!, was on T-111-13, RAD 131. Would really like to get in touch with my Boat Crew, Larry Wright, who is a member of MRFA, also, Vinnie Reynolds, and I have to apologize, but don't remember the engineman's or coxswain's names!!, Its been 50 years and I'm getting older!? I can be reached at 520-891-6981. Thank you all for your service.
My father James Wooten sent me this link to see a little more about what he did. I am also retired Navy ITC, formally RM. I am genuinely happy to be able to see this group still communicating and helping each other. Much Love!
Orders to Naval Support Activity Saigon Sept.69. Assigned to det AnThoi aboard APL-21 tied up to USS TUITAWILA Off Phuoc Island in gulf of Siam supporting swift boats of coastal squadron 1 & others. APL-21 eventually was condemned bc of excessive leakage & had to transfer all contents & stores to replacement APL 30 in May of 70. We were ordered to be towed up river to Operation Sea Float but cooler heads prevailed after small supply ship Mark was destroyed by a mine headed up river. Later towed to Dong Tam to support PBR's. Exit Ton Sa Nut Nov 70. Love to hear from anyone who served aboard either of these tubs. Welcome Home Brother's & Sister's!
Hello everyone, I was on Alpha 111-5 and Tango 111-10 in 1968.
US Navy Moble Riverine Support Group 1969-1970
I came aboard May 1966 USS Mark (AKL-12) commissioning as the only Radarman (RD3) aboard for my tour of duty. Passed my RD2 test but not given time to short. Raise in Fontana, Calif.
My dad was Daniel Hall - 9th infantry division Charlie Company Vietnam 1968-1969 I'm Very proud of my dad. He will be greatly missed. Daniel E. Hall 4/22/1948 - 4/6/2019