September 6-9
The Mobile Riverine Force Association will be holding a "Gathering of Troops" get together this coming fall in San Diego. It will be another great time to enjoy our unique camaraderie in between our Bi-Annual MRFA main reunions. Location: Crowne Plaza Hotel, 2270 Hotel Circle North, San Diego, CA 92108. When: Thursday September 6th through Sunday September 9th.
MRFA Registration Fee!
This Fee by all participants covers several costs for the MRFA during our Reunion and Gathering of Troops events. This is above and beyond your hotel reservation. Please be prompt in sending in your MRFA Registration Form/Payment As it helps us purchase items in advance and provides our staff with a good idea on how many will be participating.
Click * HERE * to print your MRFA Registration Form.
*** USS Midway Tour ***
Friday – September 7th (9 AM departure)
We welcome the opportunity for a Free Guided Tour of the USS Midway thanks to the generosity of a former USS Colleton sailor and many other "Docents, who are providing Free Tickets to our MRFA folks. As of now there are approximately 100 Free Tickets. Once they are gone then individuals will have to pay $18.00 for General Admission and $16.00 for Seniors. The first 100 participants/guests who sign-up using the information below will be allow in for Free. The remainder will pay the above Fee. There is wheelchair access to the main deck and hanger deck for those who will not be able to tour the entire ship. ** The roundtrip bus ticket from the hotel is $19.00 per person.** San Diego Inbound Tours is also offering an extended Midway tour that includes a Harbor Excursion, Box Lunch, Beverage and Desert for $55.00 per person. ** Please send an Email confirmation to Mike Harris and let him know that you, and any others in your party, are participating: ** www.midway.org

*** Vietnam Unit Memorial Monument Tour ***
Saturday – September 8th (9 AM departure)
We are planning a visit to the Vietnam Unit Memorial Monument on the Naval Amphibious Base, Coronado on Saturday September 8th. A bus will be rented and all participants will pay a fee for the roundtrip. Everyone from the reunion will have to ride the bus as access to the Naval Amphibious Base is tight. We need to prepare a Visitors List ahead of time to present to the base staff so please be sure to contact Mike Harris. We will lay MRF & 9th ID wreaths in memory of our Brother sailors and soldiers who gave the Ultimate Sacrifice.
** The roundtrip bus ticket from the hotel is $19.00 per person.**
** Please send an Email to Mike Harris at the Email address above to be placed on the list: **
Hotel Registration: Reservations can be made starting Immediately. Payment will not be due until after your stay in September so Register Early. Doing so will help the MRFA staff know how many will be attending. There we be no penalty if you Register and then are unable to attend. Simply cancel your Registration with the hotel.
On Site Registration: 9:30 am to 3 pm – Thursday 9/6 through Saturday 9/8.
Handicapped Rooms: The hotel has (13) Handicapped Rooms. If you need one then be sure to Register Early to secure it.
Room Rates: $99.00 a night plus tax with a maximum of (4) persons per room. Check-in time is 4 PM and check-out time is 12 pm. This rate is good from 3 days before the reunion until 3 days following the event. To make your Reservations you can do one of the below. Be sure to mention you are making your reservations under the Mobile Riverine Force Association along with the dates you are staying.
Note: There will be a $35.00 charge for any early departures that are not considered emergencies:
1) Visit THIS link and Register Online:
2) Call the Crowne Plaza Hotel using this toll-free number: 1- (888) 233-9527 – Between the hours of 7:00 am – 11:00 pm, 7 days a week EST time. There are other toll-free numbers listed on the Crowne Plaza Hotel website, but we have been instructed to ONLY us the one above.
Hospitality Room: The "Paradise Cove" (2,380 Sq Ft) will be available for MRFA use on 9/6 – 9/8 from 8:00 am to 11 pm daily. Feel free to bring your Photo Albums, Videos, Memorabilia, etc. for display. We will have a TV and recorder available for playing video and slide shows. If you have a Riverine Book, or other items for display or for sale, then it is ok to bring them to the Gathering. ** Note ** – The MRFA is not responsible for any loss so please bring duplicates if possible or stay with your display until you take it back to your room.
Lanai Suites: Two poolside Complimentary Suites will be provided by the hotel. The MRFA will be allowed to purchase snack food and beverages and serve them from these suites from 9/6 to 9/9.
Poolside Lunch: On 9/7 & 9/8 luncheon food will provided by the hotel on a "Cash & Carry" basis. This means that our reunion personnel will pay for their own lunches.
Here is a map showing how centrally located the Crowne Plaza Hotel is: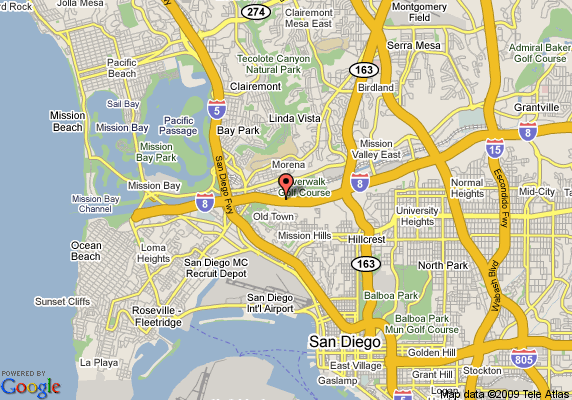 Shuttle Service: There is no airport shuttle available to the hotel. It is recommended that hotel customers make one of these two choices:
Cloud 9/Super Shuttle: Our group can save $3.00 to $6.00 off the regular price of $12.00 each way from the airport. The rate is lowered to only $9.00 one way or $18.00 round trip. However, you must make an advanced reservation.
Taxi: The going rate from the airport to the Crowne Plaza Hotel is $22.00. If four people share a cab then you will pay a one way fare of $5.50 per person.
Parking: The hotel has agreed to allow Free Parking to everyone who Registers and Occupies a room.
RV Parking: Extremely limited and the hotel requires that anyone parking an RV on their property must stay in one of the hotel rooms and not in their RV. There are several RV Parks close so if you plan on going this route then you'll have to make your own reservations at a park.
WiFi: Normally there is a charge for WiFi, but the Crowne Plaza staff is allowing Free WiFi to MRFA personnel.
Hotel Features:
* All rooms have balconies or lanais overlooking adjacent golf course or swimming pool area
* Islands Restaurant
* Islands Sushi and Pupu Bar
* Outdoor heated pool
* Fitness room
* Be Good to Yourself Massage company on site
* Business Center
* Oversized guestrooms
Dining: The Crowne Plaza is providing a complimentary 10% discount in all food outlets at the hotel. Welcome to the San Diego Crowne Plaza Hotel located in the heart of Mission Valley. Our affordable luxury hotel is just minutes from the San Diego International Airport (SAN) and near many of Southern California's most popular attractions. Families lodging at our choice San Diego hotel can enjoy convenient access to many of California's best attractions, including the world-renowned San Diego Zoo, Balboa Park, Sea World and the gorgeous Pacific Ocean beaches. Our upscale hotel in San Diego, CA provides business travelers with quick access to many area businesses, such as the San Diego University of Integrative Studies, the University of San Diego, the UCSD Medical Center and the Scripps Mercy Hospital. Guests lodging at our luxurious San Diego accommodations can take advantage of our hotel's premium meeting facilities. With 26,000 square feet of flexible meeting space, endless room style arrangements and catering services available, our San Diego hotel can accommodate meetings and events of all sizes and types. During your stay at our hotel near the San Diego Zoo, you can relax in a tropical paradise. Lounge by the outdoor pool while listening to the soothing sounds of the outdoor waterfall, or enjoy fresh sushi at the Islands Sushi & Pupu Bar. Book your reservation today and see why our Crowne Plaza is among the finest San Diego hotels.
Local Attractions
SeaWorld Adventure Park: Since opening in 1964, SeaWorld Adventure Park in San Diego has hosted more than 100 million adventure-seekers with amazing animals and wondrous shows. Journey to Atlantis, Wild Arctic, and Shamu's show Believe are just a few of the many attractions and activities that await. 500 SeaWorld Drive. (800) 25-SHAMU
USS Midway: The USS Midway Museum is an unforgettable adventure for the entire family. Go to sea without leaving port! Explore more than 60 exhibits with a collection of 27 restored aircraft. Located in downtown San Diego.
B Street Pier: B Street Pier has long been a mustering point for catamaran trips to Catalina, an island about three hours northeast, and cruise trips to Mexico's Ensenada, about 80 miles south, and now the B Street Cruise Ship Terminal welcomes dozens of gleaming cruise vessels calling throughout the year. For possibilities for sailing to Mexico, Hawaii, Tahiti and beyond, consult MetroGuide's CruiseGuide. Between the foot of Broadway and A Street.
Balboa Park: Passports for this park, where the 200-foot California Tower's 100-bell carillon chimes every 15 minutes, are available at the Balboa Park Visitors Center in the Plaza de Panama and include admission to 13 attractions plus deluxe admission to the San Diego Zoo. Other park attractions include the Botanical Building, Japanese Friendship Garden, and the San Diego Aerospace Museum where there's a replica of Lindbergh's Spirit of St. Louis. Northeast Edge of the Business District. (619) 239-0512
Belmont Park: A wooden roller coaster, a carousel and a 175-foot long indoor swimming pool are part of this Oceanside amusement park's allure. The Big Dipper, built in 1925 and now a California Historic Monument, is comparatively small with a maximum 74-foot rise, but is known for turbulent twists and g-forces. 3146 Mission Road. (619) 656-1500
The Big Bay: San Diego Bay, also known as The Big Bay, invites water exploration with narrated harbor tours for North Bay, South Bay, Point Loma, Cabrillo National Monument, North Island Naval Air Station, the Submarine Base, Coronado Bridge and more. A ferry shuttles between B-Street Pier (downtown) and The Ferry Landing Marketplace (Coronado).
1050 North Harbor Drive. (800) 44-CRUISE
Gaslamp Quarter: This 16-block National Historic District contains most of San Diego's Victorian-syle commercial buildings from the late 1800s when Market Street was the downtown hub. The 1900s saw business moving westward and what was then called the Stingaree District sank into a haven for proliferating flophouses and working girls picking up sailors in dance halls. Moves to raze the district in the 1970s galvanized history buffs, artists and architects, forming the Gaslamp Quarter Council, bent on preservation. Tree-shaded brick sidewalks are now lined with shops and restaurants. At 410 Island Avenue is the William Heath Davis house, a restored 19th-century saltbox. Across the street, at Island and Third, is the century-old Horton Grand Hotel. The Golden Lion Tavern, at Fourth and F streets, has a spectacular stained-glass domed ceiling.
Fourth and Fifth avenues from Broadway to Market Street.
La Jolla: Part of San Diego, upscale La Jolla nevertheless staked out its own postal zone and is often viewed with good cause as the Monte Carlo of California. The coastal attraction here is Ellen Browning Scripps Park (named after the newspaper heiress) at La Jolla Cove where the children's pool at the south end has shallow waters and a curving beach. Kayaking among the La Jolla sea caves is popular, with the cliffs of Torrey Pines State Park and picturesque La Jolla as backdrops. As an underwater marine preserve, wildlife abounds and sightings of seals, sea lions, dolphins, cormorants, pelicans, garibaldi, and gentle leopard sharks are common.
Maritime Museum of San Diego: With the U.S. Coast Guard Base, the U.S. Marine Training Center, and the Naval Air Station flanking San Diego Bay, the Maritime Museum of San Diego has its own watery intrigue, with assorted exhibits along with three historic vessels – the 1863 tall ship Star of India, the 1898 ferry Berkeley, and the 1904 steam yacht Medea. 1492 North Harbor Drive. (619) 234-9153
Mission Bay: Admission is free and kite-flying is hot at this breezy 4,600-acre aquatic park (with 75 percent on public land) that includes 27 miles of bay front beach and 17 miles of ocean frontage. In 1542, Portuguese explorer Juan Rodriguez Cabrillo called it "Baja Falso" after the ocean-facing inlet lured him into discouraging swampland. In the 1960s, the city dredged to build a monumental man-made bay with vast stretches of beaches and lawns for picnics and recreation, and resort hotels dotting the natural landscape. 2688 East Mission Bay Drive. (619) 276-8200
Museum of Photographic Arts: MOPA, one of the few museums devoted solely to photography, has works by both the renowned and virtually obscure, with impressive holdings of the entire history of photography, from Daguerreotypes through laser holograms and other advancements. Major strengths are in social documentary photography and photojournalism. 1649 El Prado. (619) 238-7559
Old Town San Diego: This six-block area of the San Diego State Historic Park marks founding of the first European settlement in California and encompasses many of San Diego's original buildings. Presidio Park is the site of California's first mission and military fortress, established in 1769. Black Hawk Smithy & Stable, where blacksmithing is demonstrated, opened in the 1860s. An 1868 stagecoach is on display at the Colorado House/Wells Fargo History Museum. Whaley House, believed Southern California's oldest two-story brick house, has been a residence, store, courthouse and theater, and now showcases restored period furnishings. Bounded by Wallace, Juan, Twiggs, and Congress streets.
San Diego Zoo: The San Diego Zoo, one of the largest, most famous in the world, has some of the rarest specimens in captivity with exhibits replicating natural environments of the animals. The 100-acre zoo was founded in 1916 by Dr. Harry Wegeforth, an enterprising San Diego physician who started with a handful of animals left over from the Panama-California Exposition. The zoo now cares for more than 4,000 animals representing 800 species. The Skyfari aerial tram provides a panoramic view of all there is to enjoy and 40-minute guided tours on double-deck buses over miles of winding roads help zoo-goers plot visitation strategy. Zoo Drive in Balboa Park. (619) 234-3153
Seaport Village: Seaport Village, connecting hotels and the convention center with the harbor is a 14-acre outdoor mall with 75 shops, arts and crafts, dining and recreation with opportunity for sunset watching. 849 West Harbor Drive. (619) 235-6569
Whale-Watching: On their annual migration from Alaska to Mexico, some 200 barnacled gray whales pass by the San Diego coastline each day, often coming within yards of tour boats. Some companies, including San Diego Harbor Excursion, guarantee whale sightings or allow disappointed whale-watchers to try again another day for free. Tours, accompanied by a naturalist, start Dec. 26 and run through the end of March. 1050 North Harbor Drive. (619) 234-4111
Fort Rosecrans National Cemetery: Twenty three Medal of Honor recipients, to include Master-at-Arms Second Class Michael A. Monsoor (Iraq War) U.S. Navy, Ramadi, Iraq, Sept. 29, 2006, lay at rest at Fort Rosecrans, which has a history reach clear back into the mid 1840's.
We would like to take a moment to THANK Captain Al Dillon (USN Ret.) for his "boots on the ground" regarding the early prep work on a Hotel. Bravo Zulu Captain…! (CO of the USS Washtenaw County (LST-1166) During the Tet Offensive of 1968.
Come Join us for another Great Gathering…!
Albert Moore
President MRFA