Delta FAC


A Pilot's War in the Mekong Delta
By: USAF Major General Paul E. Landers Jr.
Forward Air Controller – 9th Infantry Division
June 1967 – January 1968
Then 2 weeks of Tet 1968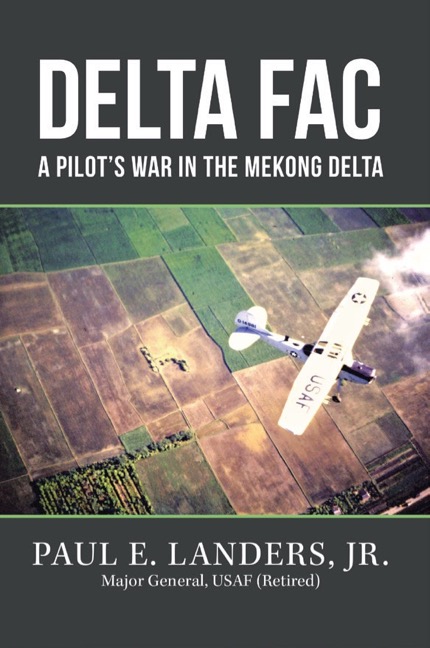 As a young Air Force officer, Major General Paul Landers flew small Cessna O-1 aircraft, called Bird Dogs, over the trees and rice paddies of the Mekong Delta as a forward air controller (FAC).  His duty was to conduct reconnaissance and direct airstrikes in support of the only large US unit operating there:  the Mobile Riverine Force (MRF).
The MRF, combining 2d Brigade, 9th Infantry Division and Navy Task Force 117, fought along the many rivers and canals of the Delta, seeking to regain control of that quarter of Vietnam, where over half the population lived.
After Tet 1968, when the MRF had driven the VC out of the major Delta cities, General Westmoreland praised the MRF, saying that "they saved the Delta."  Paul Landers was there.
He flew more than 375 combat missions, directed hundreds of airstrikes, and helped rescue downed aircrew and save outposts under attack.
This is his story.


Major General Paul Landers graduated from the Air Force Academy in 1962, with the fourth class ever to attend the school.  He served 31 years in uniform, flying as a jet instructor in the US and in Canada, as a transport pilot, and as a forward air controller in Vietnam, where he flew over 375 combat missions.
He was commander of the transport wing at Charleston AFB SC during Operation Urgent Fury in Grenada, and flew two missions taking in soldiers and supplies and evacuating US citizens and wounded troops.
He was commander of 21st Air Force at McGuire AFB NJ during the first Gulf war, and was responsible for command, control and support of the airlift in Desert Shield.
After retiring from the Air Force, he worked in Michigan for large companies in Ada and Dearborn   He and his wife currently live in east Texas.


Here's where you can purchase Paul's book:
Amazon (search: Paul Landers Delta FAC)
Also available on Barnes and Noble