"For Good Reason"
By: James D. Robertson
Charlie Company/4th Battalion/39th Infantry/9th Infantry Division
August 1968 to June 1969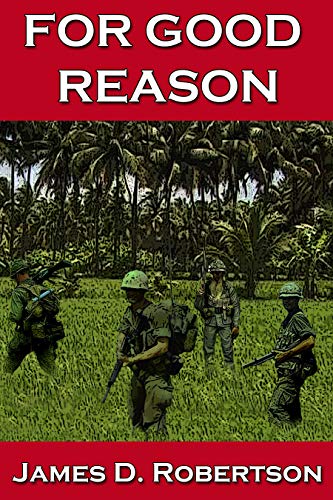 Twenty years after he survived Vietnam, Daniel Mulvaney's memoir is a best seller. But success brings unforeseen attention. An invitation from a mysterious Vietnamese, to return to the land that nearly took his life, takes Danny back to when an idealistic kid was unjustly expelled from college and drafted into the US Army. The old nightmares resume. He can't work. His marriage is in trouble.
As a young man in Brooklyn in 1968, Danny was unsure if his mom's credo—everything happens for good reason—was wisdom or corny idiom, but he was determined to be a man worthy of Amanda, the girl he loved. Gino Sebastionelli, his closest friend, wanted them to bolt for Canada together, but Danny wouldn't be swayed. His idealism blinded him to the horrors ahead. He'd be wounded, decorated, betrayed, face court martial, and then be saved by Tom Tyler, an officer from Danny's college town, where all his troubles began. When Danny's platoon was nearly wiped out, Tyler was captured, and Danny would have to lead a green platoon, against orders, into the U-Minh— The Forest of Darkness—in order to have any chance of saving his lieutenant…
Critical acclaim for James D. Robertson's FOR GOOD REASON
"Wars are waged by nations, but fought by individuals. Robertson's For Good Reason is a fascinating study in the price soldiers continue to pay long after coming home and how, for some, the war is never over." ~ Reed Farrel Coleman, New York Times Bestselling Author of What You Break
"James D. Robertson's For Good Reason is a page-turner full of emotion and tension that will grab the reader by the throat and entertain from the first page to the end. You will care about his characters, their feelings, and their relationships. This guy can write." ~ Joseph Badal, Amazon #1 Best-Selling Author of Obsessed
"Some of the best war novels are written long after the war has passed into history, and James Robertson's For Good Reason takes its place among those classics. Robertson, a Vietnam veteran, writes with the authenticity of a man who was there, and the maturity of a man who has come to grips with his combat experiences. The battle scenes are among the best I've ever read: tense, heart-pounding, too realistic, and emotionally draining. This book will bring back memories of a time that changed all of us who lived through it." ~ Nelson DeMille, USA Today Best-Selling Author of The Cuban Affair
"From the very first page, James Robertson's For Good Reason brings you into an authentic, gripping portrayal of war and the devastation it wrecks." ~ Annamaria Alfierie, acclaimed historical mystery novelist


Here's where you can purchase Jim's book:
For Good Reason *** RELEASE DATE: SEPTEMBER 1, 2018 ***
Now available for pre-order at discounted prices from blackopalbooks.com by clicking HERE.
   The ebook is available at amazon.com
The print version will be available at Amazon and Barnes and Noble on September 1, 2018.