"Jungle in Black"

By Steve MaGuire
6/31st Infantry – Alpha and Echo Company
These reviews are taken from Amazon.com:
From Publishers Weekly
"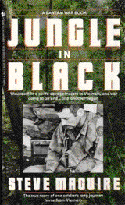 This Vietnam memoir is well-written and fast-paced but hardly substantial. A gung-ho Airborne Ranger, Maguire fought valiantly until a Vietcong mine destroyed one eye and blinded the other. The tale opens with lengthy and generic combat descriptions that lead up to Maguire's wounding; the rest of the book covers his rehabilitation. Though Maguire describes himself as "re-created . . . from a romantic war novel" and displays himself as bloodthirsty and xenophobic, he never offers enough about his life and background to round out his person. Rather than detail how he coped with his blindness and earned a doctorate in psychology (revealed in an epilogue), he paints a broad portrait of the early stages of rehab, full of macho talk, lust for nurses and hopes dashed by doctors. The main focus of the book is Maguire's quest for a woman. He happily recalls a carefully orchestrated double date during which his buddy claimed they fought lions and natives in Africa. He burned at his friends' pity for him, but wouldn't reject the prostitute they provided. He finally found love with a thoughtful college student named Susan, allowing him to move on."
Copyright 1992 Reed Business Information, Inc.
William F. Buckley, Jr.
"I can say with confidence that no one with 20-20 vision has accomplished what Mr. Maguire has done…"
You may Purchase this book by contacting the Author Steve MaGuire: maguire46@comcast.net