"Muddy Jungle Rivers"
By Wendell Affield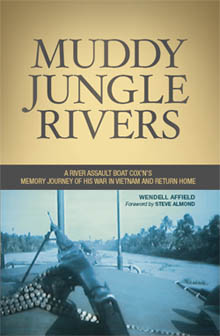 Book Description
Muddy Jungle Rivers is a close-up look at life on an armor troop carrier (ATC) during 1968, the bloodiest year of the Vietnam War. It is the story of a seven-man crew captained by a volatile pro-war enlisted man, told from a twenty-year-old cox'n's point of view. Like Philip Caputo's "A Rumor Of War," this narrative takes the reader into frustration, rage, terror, death, betrayal, and the search for redemption. Muddy Jungle Rivers has 29 chapters, maps, and photographs. Today's generation watch their peers returning from combat and cannot understand why their loved ones have changed after being blanched in the cauldron of war. In Muddy Jungle Rivers the reader will glimpse the genesis of post traumatic stress disorder (PTSD). Steve Almond wrote the Foreword for Muddy Jungle Rivers.
Editorial Reviews From the Back Cover
When Wendell Affield arrived in Vietnam in February 1968, the Tet Offensive was in full swing. Affield, cox'n on Armor Troop Carrier 112-11 and the rest of River Division 112 operated non-stop. They were subjected to ambushes, snipers, North Vietnam Army artillery, and river mines. Vampire mosquitoes, racism, boredom, and a volatile boat captain strained boat crew morale. On a Sunday afternoon, ATC 112-11, the platoon of army troops on board, and the boat crew were savaged in the opening moments of a Viet Cong Main Force ambush.
"I could speak at length here about the merits of Muddy Jungle Rivers: its eloquence, its emotional generosity, its urgent and haunting prose. But the book's enduring virtue is that it records, with utmost fidelity, the unspeakable horrors of the author himself, as a young man adrift in the moral chaos of war." – From the Foreword: Steve Almond, author of God Bless America: Stories, and many other works
About the Author
In January 1968 Wendell Affield went to Vietnam as the cox'n of Armor Troop Carrier 112-11 with the Mobile Riverine Force. Part of his tour of duty was in the Mekong Delta with the Army 9th Infantry Division and, for four months, with the 3rd Marine Division on the Cua Viet River, just south of the DMZ, as a member of Task Force Clearwater. On August 18, 1968 he was wounded in an ambush and medevaced home. At seventeen, he enlisted in the navy. He was half way through his first tour in Vietnam aboard the destroyer, USS Rogers DD 876, in 1966, when his class graduated from high school. Affield, the third of nine children, grew up on a small farm in northern Minnesota. After leaving the navy in 1969, he found work as a meatcutter apprentice in the Chicago area and, a few years later, became a manager, a position he held for almost thirty years. In 1980 he and his family returned to northern Minnesota. After retiring in 2001 Affield enrolled in Bemidji State University, where, over the years, his Vietnam essays evolved into Muddy Jungle Rivers. In 2003 Affield met Dan O'Brien at a writer's workshop. O'Brien invited him to his buffalo ranch in the Black Hills where he spent a week. O'Brien advised Affield to read Hemingway. Study Hemingway. Today, faint echoes resonate in Affield's writing. He and his wife, Patti, live on a farm in northern Minnesota. They have three children and several grandchildren. Affield is a freelance writer and is currently working on memoirs of his family history, between college classes, workshops, and lambing season. He is a member of the National Writers Union and IBPA.
Wendell's Personal website
Click on "BUY NOW" to purchase "Muddy Jungle Rivers"
Watch an informative Video Interview with Wendell Affield