"Sea Story!" & Other Sketches Memories and musings from a life of adventure
By CDR Corwin A. Bell, U.S. Navy (Ret.)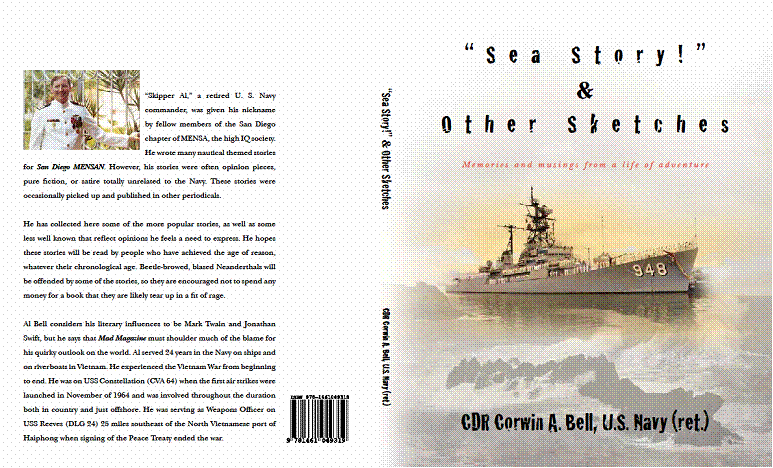 Product Description
The book is a collection of previously published stories, essays, rants, and musings by 'Skipper Al' Bell, whose adventurous life has given him a unique perspective on the world. The writings range from interesting accounts of real events to humorous lampoons and fiction. Some are inspiring, while others are ironic. The gentle reader may not agree with the author on some issues, in which case the reader is almost certainly wrong. His writings are part Mark Twain, part Jonathan Swift, and a large dose of "Mad" magazine. Some stories are serious and uplifting. Others reflect brooding depression. All are entertaining.
About the Author
"Skipper Al," a retired U.S. Navy commander, was given his nickname by fellow members of the San Diego chapter of MENSA, the high IQ society. He wrote many nautical theme stories for "San Diego MENSAN." However, many of his stories were opinion pieces, pure fiction, or satire totally unrelated to the military. These stories were occasionally picked up and published in other periodicals. He has collected some of the more popular stories, as well as some less well known that reflect opinions that he feels a need to express. He hopes these stories will be read by people who have reached the age of reason, whatever their chronological ages. Al Bell considers his literary influences to be Mark Twain and Jonathan Swift, but he says that "Mad" magazine must shoulder much of the blame for his quirky outlook on the world. Al served 24 years in the Navy, many on ships and riverboats involved in the Vietnam War.
Book Reviews
"Sea Story!" & Other Sketches includes non-fiction stories that took place while Al Bell was the Fleet Command Advisor to the Vietnamese Navy based in Saigon, the Senior Advisor to the South Vietnamese River Assault and Interdiction Division 72 (Raid 72) in the Mekong Delta, the Weapons Officer on the USS Reeves (DLG 24), Skipper of the USS Morton (DD 948), and XO of the Pearl Harbor Naval Station in Hawaii. In 1982, while Al was skipper, Morton rescued two boatloads of Vietnamese "boatpeople" in perilous situations in the South China Sea. His accounts are detailed and well written. Also included in "Sea Story" are op eds, pure fiction, or satire totally unrelated to the Navy. All stories are informative, provocative, and many, fun. It is insightful reading about the Navy brass' unwritten policies regarding rescues, the rescues themselves, and Al's reconnecting with the rescued people and their families later in life. Al approaches his involvement in a humble, unassuming way, often humorous, like those of his genre. He is a hero, an unusual individual. Al is a talented writer, his writing, revealing. Richard Gorman
The tales sound dubious but remarkably all are true. The reader's belly laughs will begin with the wonderful but incredible Seaman Posey for whom work was a lifestyle option he did not choose. Posey's Vietnam naval service like todays Greek taxpaying was a contradiction in terms.
Al Bell is a retired US Navy commander whose quarter century of service included the Vietnam War from start to finish. His proudest moment came as a result of ignoring orders and picking up escaping Vietnamese boat people.
Alternately whimsical and sharp, his views and little stories remind us how our minds can be rich repositories of illuminating experiences provided life has been adventurous.
Be prepared for My Trainee Arnold Schwarzenegger and Hitler was a Catholic. The subjects are wide-ranging.
Well worth the modest investment involved.
John Foley
Available on Amazon.com search term "CDR Bell" Or At a better price, directly from the author and suitably inscribed and autographed for $18 + $5 shipping & handling:
7633 Hazard Center Drive
San Diego, CA 92108
(619) 293-0010
corwinabell@aol.com