Wooden Ships and Iron Men, Volume III: The U.S. Navy's Coastal and Inshore Minesweepers,
and Minecraft that Served in Vietnam, 1953-1976
By CDR David D. Bruhn, USN (Ret.)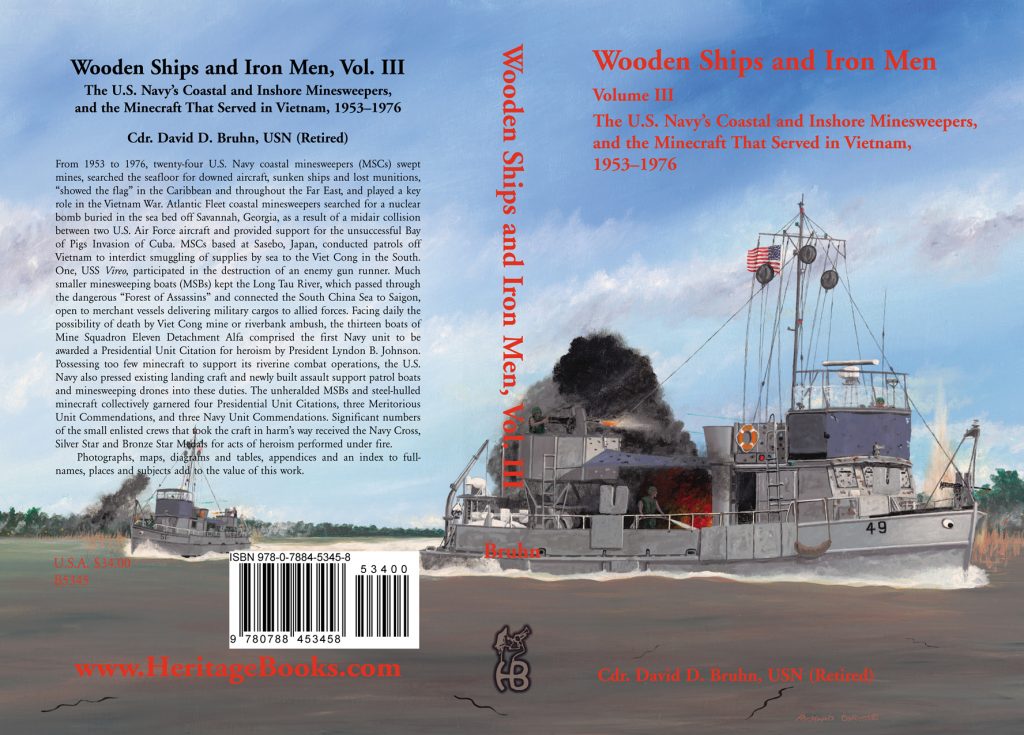 Wooden Ships and Iron Men, Volume III: The U.S. Navy's Coastal and Inshore Minesweepers, and the Minecraft that Served in Vietnam, 1953-1976
From 1953 to 1976, twenty-four U.S. Navy coastal minesweepers (MSCs) swept mines, searched the seafloor for downed aircraft, sunken ships and lost munitions, "showed the flag" in the Caribbean and throughout the Far East, and played a key role in the Vietnam War. Atlantic Fleet coastal minesweepers searched for a nuclear bomb buried in the sea bed off Savannah, Georgia, as a result of a midair collision between two U.S. Air Force aircraft and provided support for the unsuccessful Bay of Pigs Invasion of Cuba. MSCs based at Sasebo, Japan, conducted patrols off Vietnam to interdict smuggling of supplies by sea to the Viet Cong in the South. One, USS Vireo, participated in the destruction of an enemy gun runner. Much smaller minesweeping boats(MSBs) kept the Long Tau River, which passed through the dangerous "Forest of Assassins" and connected the South China Sea to Saigon, open to merchant vessels delivering military cargos to allied forces. Facing daily the possibility of death by Viet Cong mine or riverbank ambush, the thirteen boats of Mine Squadron Eleven Detachment Alfa comprised the first Navy unit to be awarded a Presidential Unit Citation for heroism by President Lyndon B. Johnson. Possessing too few minecraft to support its riverine combat operations, the U.S. Navy also pressed existing landing craft and newly built assault support patrol boats and minesweeping drones into these duties.
The unheralded MSBs and steel-hulled minecraft collectively garnered four Presidential Unit Citations, three Meritorious Unit Commendations, and three Navy Unit Commendations. Significant numbers of the small enlisted crews that took the craft in harm's way received the Navy Cross, Silver Star and Bronze Star Medals for acts of heroism performed under fire.
Sincerely,
David Bruhn
NOW AVAILABLE:
Wooden Ships and Iron Men, Volume III is now available online from Heritage Books, Barnes & Noble, and Amazon.
If you wish, you may learn more about these, and my other books at: www.davidbruhn.com