Hi Albert,
This is a picture of the CCB-18 that we have here. Doug Meek has fixed all the broken parts an added some new ones that he got at swap meets an where ever he could find them. He has done a beautiful job of it too. We still don't know for sure where it came from but one work Saturday it was just there by the boats. If we had a way to get it back to Indiana you could put it in the trailer for display.
– Chuck Campbell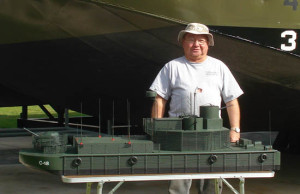 My name is Douglas Meek and I served as an Engineman in the Mobile Riverine Force from April 1968 to April 1969. April 30, 1968 to July 27, 1968 on A-112-8 and July 28, 1968 to Oct. 20, 1968 on T-112-5. I was a fill in engineman on both boats after both engineman were either wounded or left country. After the tour on T-112-5 when the crew was relieved by a new crew, I was selected by LT. Hatfield as the staff engineman. I worked on all boats of Riv.Div. 111 and 112. I worked out of a shack on the pontoon of APL-30. The staff electrician, engineman and gunners mate rode on one of the boats on all operations.
My hobby is model trains and I have built a lot of train models. That brought about me scratch building a model of T-112-5. I just finished a model someone started of a CCB from out monument here in San Diego of the boat that is here, C-18.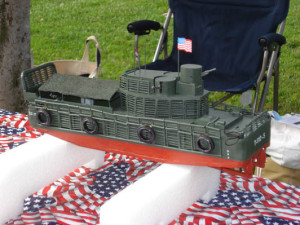 I am looking for the crew of my boats. I remember Boat Captain Amid Claude and Coxswain Daniel Robin. I only have first names of rest of crew: Jim, Buck, Ralph, Mack, and Burch. On A-112-8, I recall Coxswain Michael Plum from Indiana, bit no other first names for rest of crew: Boat Captain Normaile, Seattle, 50 gunner Bridger, Arkansas and 20 gunner Hass, Indiana. I am from Lewiston Idaho but have been here in San Diego since I got out of the Navy in 1970. If anyone knows of any of these shipmates, I'd like to get in contact with them. My E-mail address is: SBRNDoug@sbcglobal.net