The initial photos and idea came from Dan Groesbeck, EM2 Staff Electrician. Here is his comment regarding a lot of the artwork:
"I have received input about the artist that performed some of the boat artwork I sent to you in the past. Steve Wolf (aka "Hippie) confirmed that there was more than one artist doing the artwork. Steve also states in his email that Doug Morton was his loader on M-91-3 and that he is the sailor who took the B-40 hit on April 4 1968!! ."
Sincerely Dan Groesbeck
We will add new photos as they are presented.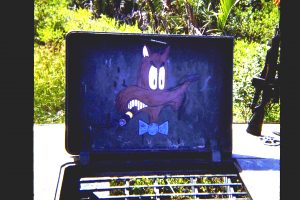 Submitted by Charles Allen (T-151-2). He did he artwork for T-28.  In Memory of BM2 Lannie D. "Slim" Wiggins, Boat Captain of T-28 (deceased).  The "Swamp Fox" was submitted by Frank Passarelli.
I was looking at the pictures on MRFA and thought you might want to display this on under Assault Craft Artwork. I haven't seen any pictures of Zippo 7 on any of the web sites I have visited. It was taken in the spring of 1969 around Ben Luc by GMG 3 John Heinz of Mine Division 113. John was the Gunner's Mate on MSM 15 and I was the Gunner's Mate on MSM 14. We spent our tour together.
Best Regards, Greg Ritchey