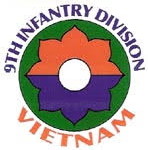 VIETNAMESE CROSS OF GALLANTRY WITH PALM (SECOND AWARD)
THE CROSS OF GALLANTRY WITH PALM (SECOND AWARD) HAS BEEN AWARDED BY THE GOVERNMENT OF THE REPUBLIC OF VIETNAM FOR OUTSTANDING SERVICE DURING THE PERIOD
1 JULY 1968 THROUGH 13 NOVEMBER 1968 TO:
THE 1ST BRIGADE, 9TH INFANTRY DIVISION AND ITS ASSIGNED AND ATTACHED UNITS:
HEADQUARTERS AND HEADQUARTERS COMPANY, 1ST BRIGADE
2ND BATTALION 4TH ARTILLERY
6TH BATTALION, 31ST INFANTRY
2ND BATTALION, 39TH INFANTRY
3RD BATTALION, 39TH INFANTRY
4TH BATTALION, 39TH INFANTRY
2ND BATTALION, 47TH INFANTRY
5TH BATTALION, 60TH INFANTRY
COMPANY C, 15TH ENGINEERS
COMPANY D, 709TH MAINTENANCE BATTALION
COMPANY C, 9TH MEDICAL BATTALION
FORWARD SUPPORT PLATOON, 9TH SUPPLY AND TRANSPORTATION BATTALION
2ND PLATOON, 9TH MILITARY POLICE COMPANY
3RD PLATOON, COMPANY B, 9TH SIGNAL BATTALION
2ND PLATOON, BATTERY H, 29TH ARTILLERY
2ND PLATOON, BATTERY C, 5TH BATTALION, 2ND ARTILLERY
The citation reads as follows:
The 1st Brigade, 9th Infantry Division, under the command of Colonel Ira Hunt, Jr., is an excellent unit composed of brave soldiers with abundant experience in combat and a high spirit of discipline. While serving in the Republic of Vietnam from the month of December 1966, the 1st Brigade gained numerous glorious victories causing great consternation to the aggressive communists. Especially in the search-and-destroy operations conducted from 1 July to 13 November 1968 in Long An Province, the brigade confronted powerful communist forces, but, with unyielding heroism, the soldiers of the 1st Brigade coordinated with friendly units to defeat the North Vietnamese Army 294th Battalion, the Viet Cong 1st and 2nd Battalions and the Viet Cong 256th battalion, as well as numerous other hostile battalions from the Plain of Reeds to Nha Be River. During the 136 days of continuous fighting, the 1st Brigade killed 2,194 Viet Cong and captured 152 Viet Cong and 778 assorted weapons. In addition to their military efforts, the 1st Brigade cooperated closely with the army of the Republic of Vietnam's 25th Infantry Division and Regional/Popular Force units. Aiming at the amelioration of the poverty of people dwelling in remote hamlets. With the above mentioned achievements, the 1st Brigade contributed greatly and effectively to the anti-communist efforts protecting freedom and peace in the Republic of Vietnam.
By order of the Secretary of the Army
W.C. Westmoreland, General, United States Army Chief of Staff
Official:
Kenneth g. Wickham, Major General, United States Army, The Adjuntant General