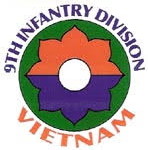 CIVIL ACTIONS HONOR MEDAL
is awarded to the
9th US Infantry Division
Serving in Vietnam from 19 Dec 1966 to the present, the 9th US Infantry Division has obtained many significant results in the spheres of warfare and civil actions. Especially in the area of civil actions, the 9th US Infantry Division's soldiers, in spite of hardship, carried out their activities in the remote hamlets in helping the Vietnamese people through their medical support, education and psywar assistance, repair and construction of public facilities for the war victims.
In the area of public health, the 9th US Infantry Division has trained 158 health cadres, given medical examinations and treated 708,588 persons.
In the educational domain, the 9th US Infantry Division has reconstructed 356 schools in Tien-Giang Dta, one school in the vicinity of Dong-Tam base, opened many English courses in 4 high schools in My-Tho city for almost 30,000 students.
In the psywar area, the 9th US Infantry Division has carried out many loudspeaker and leaflet dropping missions resulting in 8,949 VC cadres rallied to the national cause.
In addition, the 9th US Infantry Division provided 48,256 manpowers to help the local people in repairing the destroyed houses, furnished 89 orphanages with construction materials, distributed 1,000 tons of food and 8 tons of clothes to the refugees of the communist danger, as well as provided active assistance in repairing 447 bridges, 1107 km of roads, 27 pagodas and repairing and defending 4th highway.
Through the above glorious achievements, the 9th US Infantry Division has greatly contributed to the common struggle against communism, as well as helped the Republic of Vietnam in its reconstruction.
This awarding is enclosed with :
Unit Citation Streamer in Civil Actions Honor Medal with Oak Leaf for the 9th US Infantry Division guidon
Civil Actions Honor Medal, First Class for Major General Harris W. Hollis, Division Commander
Unit Citation Badge in Civil Actions Honor Medal color with Oak Leaf for the 9th US Infantry Division and attached unit's soldiers
28 June 1969
General Cao-Van-Vien
Chief of JGS/RVNAF