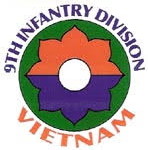 By virtue of the authority vested in me as President of the United
States and as Commander-in-Chief of the Armed Forces of the United
States, I have today awarded
THE PRESIDENTIAL UNIT CITATION (ARMY)
FOR EXTRAORDINARY HEROISM
To The
2D BRIGADE, 9TH INFANTRY DIVISION, UNITED STATES ARMY
Comprised of
Headquarters and Headquarters Company, 2d Brigade
3d Battalion, 47th Infantry
3d Battalion, 60th Infantry
Company C, 4th Battalion, 47th Infantry
3d Battalion, 34th Artillery
The foregoing assigned units of the 2d Brigade, 9th Infantry Division, United States Army component of the Mobile Riverine Force, distinguished themselves by displaying extraordinary heroism in action against an armed hostile force during the Tet Offensive and immediately thereafter from 29 January to 4 March 1968 in the Mekong Delta, Republic of Vietnam. Although the enemy possessed many tactical advantages due to an intimate knowledge of the area and detailed long range planning, his offensive was shattered within 5 weeks of its inception. In the Provincial capital of My Tho, 2d Brigade soldiers fought in a crowded city, an unfamiliar environment for infantry who were trained to fight primarily in a riverine environment. After restoring the security of the western sector of the city, the riverine forces commenced successive operations against enemy movements. At Cai Lai, they disrupted enemy attempts at regrouping. Strikes in and around Vinh Long and My Tho collapsed maturing enemy offensives which threatened these two key cities. Finally the riverine forces moved to the relief of the city of Can Tho, where, in 3 weeks of virtually continuous combat, the heaviest enemy attack of the entire Delta offensive was broken. The 2d Brigade engaged the enemy wherever he could be found and inflicted heavy casualties. The achievements of the riverine forces in turning back the enemy offensive represent a key factor in the operations that saved the Delta. The aggressiveness, determination, and exemplary courage under fire demonstrated by all members of the United States Army component are in the highest traditions of the military service and reflect great credit upon the 2d Brigade, 9th Infantry Division, the Mobile Riverine Force, and the United States Army.
Richard M. Nixon
President of the United States