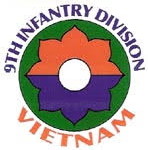 MERITORIOUS UNIT COMMENDATION
The 93rd Engineer Battalion (Construction)
The citation reads as follows:
The 93rd Engineer Battalion (Construction) distinguished itself in support of military operations in the Republic of Vietnam during the period 1 February 1968 to 30 June 1968. The officers and men of the battalion demonstrated technical expertise and determined resourcefulness in providing engineering support throughout III and IV Corps Tactical Zones. Assigned the task of preparing the Dong Tam Base Camp for the entire 9th Infantry Division, the personnel of the unit worked long and arduous hours under the most adverse conditions to construct roads, water systems and electrical power plants and to solve the problems associated in building the foundation for a division-size operations and logistical center. Although also engaged in extensive land clearing operations and the construction of Long Thanh North Airfield, they molded the Dong Tam Base into an effective and well fortified encampment for the 9th Infantry Division with dedication and resourcefulness. The men of the 93rd Engineer Battalion overcame the engineering difficulties inherent in a combat environment and completed the six thousand foot airfield and supporting facilities at Long Thanh North Airfield in a remarkably short time. Through their unrelenting perseverance, consummate knowledge of engineering concepts and singular determination, the unit's members contributed immeasurably to the mission of the free world forces in the Republic of Vietnam. The remarkable proficiency and devotion to duty displayed by the men of the 93rd Engineer Battalion are in keeping with the highest traditions of the military service and reflect distinct credit upon them and upon the Armed Forces of the United States.