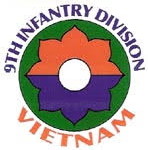 MERITORIOUS UNIT COMMENDATION
Presented To
Headquarters, Headquarters Company and Band, Support Command
9th Infantry Division
The citation reads as follows:
The 3D BRIGADE, 9TH INFANTRY DIVISION and it's assigned and attached units distinguished themselves by extraordinary heroism while engaged in military operations during the period 6 to 12 May 1968, in and around the city of Saigon, Republic of Vietnam. Sensing an attempt to invade Saigon was quite near, unit personnel established defensive positions along the south side of the Kinh Doi Canal, a main waterway entering the capital. At 0345 hours, 7 May 1968, the men of the 3D BRIGADE, 9TH INFANTRY DIVISION were subjected to a massive assault launched by elements of a multi-battalion size enemy force operation in the area. Heavy and bitter fighting continued throughout the day, but by dusk the courageous infantrymen had succeeded in driving off their determined adversary. Again the following morning and repeatedly over the ensuing five days, the enemy made fierce assaults on Saigon in an attempt to take control of the South Vietnamese capital city, but each time brigade members gallantly repulsed the foe. The men of the 3D BRIGADE, 9TH INFANTRY DIVISION displayed extraordinary heroism and devotion to duty which are in keeping with the highest traditions of the military service and reflect distinct credit upon themselves, their unit and the Armed Forces of the United States.
General Orders Number 1048 – 4 May 1970