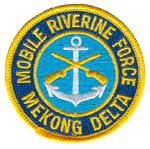 APL-26 Barracks Barge with a Combat Role

Auxiliary Personnel Lighter (APL-26) is a Navy barge that has no engines, yet in the past year, she has traveled over 7,000 miles. A year ago APL-26 was in mothballs in Seattle, WA. Last fall, APL-26, now a U.S. Service Force, U.S. Pacific Fleet asset, built in 1944, was modernized for service in Vietnam. Three days before Christmas 1966, she set sail under tow for Vung Tau. After a short stop in Subic Bay, APL-26 arrived in Vietnam on February 22, 1967.
In April, 1967 APL-26 went to work for the Navy's Task Force 117, as a hotel for boat crews and Army infantry soldiers of the 9th Infantry Division (Riverine Infantry) of the Mobile Riverine Force.
Today stripped of her coat of Navy haze gray and covered in Army olive drab green, APL-26 is supporting one River Assault Division and Staff, two rifle companies and a headquarters company, and a Navy EOD team.
Although APL-26 has no means of self-propulsion, she does have two boilers for steam and hot water, and evaporators for making over 24,000 gallons of drinking water daily. She has two generators for electricity and air condition. In addition, the barracks barge has a minor surgery ward and sick bay for patients.
With the help of two tugs, YTB-784 and YTB-785, for whom the APL-26 serves as mother ship, she has moved up and down the rivers of the Mekong Delta and Rung Sat Special Zone with the other ships which make up the Mobile Riverine Force.
Other APLs are serving in Vietnam. Most are attached to bases where there is a need for a large berthing and messing facility. But APL-26 is the first Navy barracks barge to serve as a part of a major combat task force in Vietnam.
The APL-26 was affectionately know as the "Green Apple" by crewmembers. Commodore Wells managed to get APL-26 a whaleboat from a re-supply LST, which was painted green and immediately nicknamed the "Apple Seed." YTB-784 and YTB-785 were probably the only two olive drab tugs in the U.S. Navy and did a fine yeoman's job throughout the Mobile Riverine Force.
Presented by LCDR Charles W. Lynch USN (Ret.)
Article first appeared in "The Jackstaff News" published in 1967
Awards earned during the Vietnam War: Combat Action Ribbon, (2) Presidential Unit Citations, (3) Navy Unit Commendations, RVN Gallantry Cross with Palm, RVN Civil Action Medal, First Class, with Palm, RVN Campaign Medal with 60's device and multiple Battle Stars for her Vietnam Service Medal.