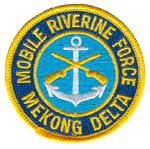 History of The USS Caroline County (LST-525)
November 13, 2006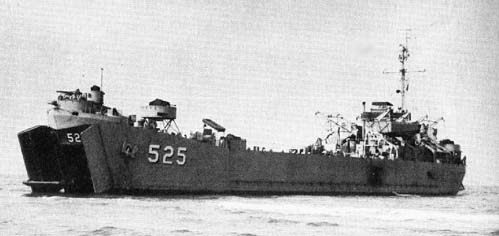 LST-525 was built at Jefferson Boat and Machinery Company, Jeffersonville, Indiana. Her keel was laid on 18 October 1942; and the ship was launched on 20 December 1943. She was commissioned LST-525 on 14 February 1944 in New Orleans, Louisiana. Upon completion of preliminary shakedown training in St. Andrews Bay, Florida, she arrived at Little Creek, Virginia to prepare for service in the Mediterranean.
In March, 1944, LST-525 deployed as part of Convoy USG 36, arriving at Pozzouli, Italy in early April. There the ship loaded 265 Army Officers and 59 Vehicles prior to her participation in the Anzio Invasion. During the next two months LST 525 made numerous beachings in Italy delivering troops, vehicles, and military cargo while assisting in the Italian Campaign.
In July, 1944, LST-525 was in Palermo, Sicily undergoing conversion of her main deck to enable the ship to carry light observation aircraft. Upon completion, she was capable of transporting and launching ten U. S. Army Piper Cubs from her flight deck. In August, 1944, while serving as a "Baby Aircraft Carrier", she participated in the Invasion of Southern France. LST-525 continued her operations as an aircraft carrier through the fall of 1944. After modifications in her new homeport of Palermo, Sicily, the ship operated in the Mediterranean lifting troops between ports in Italy, France, and Greece.
In May, 1945, LST-525 departed from the Mediterranean with a convoy bound for New York. Upon returning to the states she operated out of her homeport at Little Creek, Virginia. The ship was decommissioned on 25 June 1946 and assigned to the Florida Group of the Atlantic Reserve Fleet.
LST-525 was reactivated and recommissioned in October 1950 and assigned to the Amphibious Force, U. S. Atlantic Fleet. Upon completion of shakedown operations, LST-525 departed for Thule, Greenland as a part of a resupply convoy. Returning to Little Creek, Virginia in August 1952 she engaged in numerous amphibious operations and Fleet exercises with embarked Marines until, in 1954, LST-525 again commenced inactivation overhaul. Placed "In Service-in Reserve," LST-525 was decommissioned on 15 September 1954 and again assigned to the Florida Group Reserve Fleet.
It was on 1 July 1955 that LST-525 was officially named USS CAROLINE COUNTY (LST-525) for counties on Maryland's Eastern Shore and in North Central Virginia.
In mid 1965, the ship was again ordered to be reactivated. Assigned to the Norfolk Group, Atlantic Reserve Fleet, Caroline County began reactivation overhaul at Bethlehem Steel Corporation's Shipyard and Drydock Corporation in Baltimore, Maryland, on 9 December 1965.
On 2 June 1966 Caroline County left Baltimore, Maryland under tow, for the U. S. Naval Amphibious Base, Little Creek, Virginia. On 3 June 1866 she arrived at Little Creek, and the crew reported aboard for duty. On 9 June 1966 Caroline County was recommissioned at U.S. Naval Amphibious Base, Little Creek, Virginia. For the next three months Caroline County successfully underwent General and Amphibious Shakedown training.
On 26 August 1966, Caroline County left Little Creek and deployed to WESTPAC. She made intermediate stops in Charleston, South Carolina; Christobal and Rodman, Canal Zone; San Diego, California; and Pearl Harbor, Hawaii, before arriving in her new homeport of Guam, M. I. on 4 November 1966.
After a one week stay in Guam, Caroline County deployed to the Republic of Vietnam, where she successfully landed large quantities of military equipment and material in direct support of combat operations ashore.
With the increased need of supplies due to the threat of invasion across the De Militarized Zone, the Caroline County on 15 March 1967 with RADM Paul L. Lacy, Jr. embarked, became the first U.S. Navy Ship to enter and beach at Cua Viet, Vietnam.
After a short upkeep period in Guam, M. I., the Caroline County returned to the Mekong Delta where she spent thirty days on station as a Market Time Mother ship.
Later, in August the Caroline County became the first ship from Landing Ship Squadron THREE to act as a re-supply LST for the Mobile Riverine Force. Here, the primary responsibility was to carry supplies up the various rivers of the Mekong Delta to support United States and Vietnamese military forces. Remaining there until October she then returned to Da Nang, RVN and began operating under Naval Support Activity, Da Nang. Under NSA, Da Nang, Caroline County delivered troops, vehicles and military cargo to the various bases and camps in the northern sector of South Vietnam.
For her participation in World War II, the ship received the World War II Victory Medal and the European-African-Middle Eastern Area Campaign Medal with two Battle Stars. She also earned the National Defense Service Medal with two Stars.
The following have served at Commanding Officer of USS Caroline County (LST-525):
| | |
| --- | --- |
| Ensign James R. STEVENS, USN | 14 FEB 1944 – 12 AUG 45 |
| Lieutenant John J. SHEA, USNR | 12 AUG 1945 – 12 FEB 46 |
| Lieutenant (JG) David P. SMITH USNR | 12 FEB 1946 – 2 JUN 46 |
| Unknown | 03 JUN 1946 – 25 JUN 46 |
| Lieutenant Austin N. VOLK, USN | 20 OCT 1950 – 27 NOV 51 |
| Lieutenant Herbert A. PLUMMER, USNR | 27 NOV 1951 – 14 DEC 52 |
| Lieutenant Cornelius A. MOUL, USN | 24 DEC 1952 – 15 SEP 54 |
| Lieutenant Commander A. E. HOLZHAEUSER USN | 09 JUN 1968 – 10 FEB 68 |
| Lieutenant Kevin T. RYAN, USN | 10 FEB 1968 |
Awards earned during the Vietnam War: Combat Action Ribbon, Navy Unit Commendation, Meritorious Unit Commendation, RVN Gallantry Cross with Palm, RVN Civil Action Medal, First Class, with Palm, RVN Campaign Medal with 60's device and the Vietnam Service Medal with (4) Battle Stars.