History of The USS LSM(R)-409, USS Clarion River (LSMR-409) & USS Clarion River (LFR-409)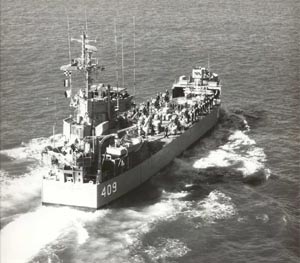 The USS LSM(R)-409 was commissioned at Charleston, SC on May 9, 1945. The skipper was Lt. (j.g.) Herbert H. Boltin, USNR. The ship was de-commissioned February 6, 1947 at San Diego, California.
USS LSM(R)-409 was re-commissioned October 5, 1950 for Korean service and was awarded Korean Service Medal with (4) battle stars for the Communist China Spring Offensive May 23-June 6, 1951; U.N. Summer-Fall Offensive July 15-30, 1951 and August 26-September 21, 1951; Third Korean Winter April 16-30, 1953; and the Korea Summer-Fall May 1-July 20, 1953. She also won the United Nations Service Medal and the Republic of Korea War Service Medal (retroactive).
During the Korean service it is reported that there were a total of 10 launchers. In addition to the 8, there was another launcher forward of the group and a tenth aft of the group. Also 20mm guns were in the bow, just aft of the forward 40mm mount. Two more 20mm were also mounted one on either side of the super structure.
The vessel was renamed USS Clarion River (LSMR-409) on 1 October 1955; She was decommissioned on 26 October 1955 at Astoria, Oregon and laid up in the Pacific Reserve Fleet, Columbia River Group.
USS Clarion River was re-commissioned on 18 September 1965 for Vietnam service. She was reclassified an Inshore Fire Support Ship (LFR-409) on 1 January 1969.
USS Clarion River (LFR-409) was decommissioned on 8 May 1970 at Yokosuka, Japan. The date she was struck from the Naval Register is unknown. Her Final Disposition was to be sold to Nissho-Iwai American Corp., Sasebo, Japan for scrapping on November 1970.
Awards earned during the Vietnam War: Combat Action Ribbon, (2) Navy Unit Commendations, Meritorious Unit Commendation, RVN Gallantry Cross with Palm, RVN Campaign Medal with 60's device and the Vietnam Service Medal with (8) Battle Stars.

To read more about USS LSM(R)-409, USS Clarion River (LSMR-409) and USS Clarion River (LFR-409) please visit Fred Pfeiffer's website. The primary focus is upon the ship's Vietnam service, but you can look under Bob Vasquez's Korean War section to read about that era.
Click HERE to read Shipmate Ray Harvey's has to say about "A Routine Day" onboard the Clarion River off the coast of Vietnam in January 1970.
Click HERE to read Ray Harvey's article titled, "Clarion River Lights up the Dark".
Click HERE to read Ray Harvey's article titled, "Never Made it to the Family Gram".