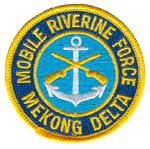 History of The U.S.S. Indra (ARL-37)
(Information supplied by Jay Eichhorn)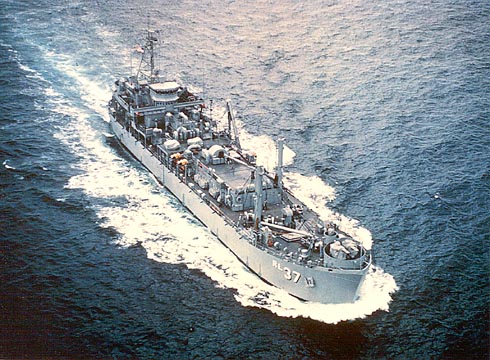 USS Indra (ARL-37) bears the name of the great national god of the Indo-Aryans. In the Vedic Hindu mythology, Indra represents the greatest and best of the deities, and is thus the god of sky and storms and of all forces lying in atmospheric phenomena.
Indra was laid down as LST-1147 on 12 February 1945; reclassified while building and launched as ARL-37 by Mrs. Regina Hlubek; placed in reduced commission and taken to Bethlehem-Key Highway Shipyard in Baltimore, Maryland, for further conversion. On 2 October 1945, Indra was commissioned under the command of Lt. Comdr. R.J. Siegelman.
After her commissioning, Indra sailed from Baltimore to the Hampton Roads area of the Chesapeake Bay where her acceptance trials and shakedown cruise were conducted. After assignment to Commander Service Force Atlantic Fleet, Indra sailed to Green Cove Springs, Florida, where she assumed the capacity of repair ship for the Sixth Fleet Commander from 30 November 1945 until 8 May 1946. On 8 May 1946, she departed Green Cove Springs, steamed through the Panama Canal and arrived in San Diego on 4 June. At San Diego Indra was assigned duty as a tender and repair ship under Commander Amphibious Forces Pacific Fleet. On 7 January 1947, she departed San Diego for similar duty in China, arriving at Tsingtao on 19 February. While supporting the U.S. Marines during this tour in the Far East, Indra was instrumental in stabilizing the volatile Chinese situation and thus protecting American lives and property in the vicinity of both Tsingtao and Shanghai.
On August 30, 1947, Indra departed Shanghai, China and returned to San Diego, arriving on 25 September. Deactivation procedures followed her arrival in San Diego, and on 6 October 1947, only two years after she was commissioned, Indra was decommissioned and placed in the San Diego Group of the Pacific Reserve Fleet.
Indra remained in mothballs until 25 April 1967, when under tow by USS Cahokia (ATA-186), she departed Pier 13 of the San Diego Naval Station and proceeded to San Francisco Bay Naval Shipyard, arriving at Mare Island one week later. On 1 June 1967, Indra entered drydock for extensive overhaul. Re-commissioning ceremonies were held on 16 December 1967, under the command of Lt. Comdr. Del D. Boerner.
After conducting successful dock, bay and sea trials in the San Francisco Bay area, Indra departed Mare Island on 7 February 1968, en-route to her designated home port of San Diego, arriving there on 10 February. On 15 March after completion of three weeks of shakedown training exercises, Indra was determined to be combat ready.
Although it was originally intended that Indra remain in the San Diego area as an Amphibious Force repair facility afloat, a requirement arose in March 1968, for the services of an additional ARL in Southeast Asia. On 1 April 1968, Indra deployed to the Republic of Vietnam to fulfill this requirement, arriving 8 May at the Port of Vung Tau. The following day Indra made a ten-mile transit up the narrow Song Dinh River and took up a four-point moor offshore of the Naval Support Activity Detachment at Cat Lo. There she began the execution of her unique assigned mission, the activation of river assault craft for River Assault Squadrons 13 and 15 of the expanding Mobile Riverine Force.
Indra remained at Cat Lo until 11 June when she transited the Long Tau River to the Naval Support Detachment at Nha Be to meet an urgent Mobile Riverine Force requirement for a ship to support riverine combat operations in the area of the Rung Sat Special Zone. Relieved of this task on 17 June by the USS Windham County (LST-1170), Indra returned to her four-point moor at Cat Lo and resumed her primary mission.
On 15 October 1968, after having activated and sent into combat over eighty Armored Troop Carriers, Monitors, Assault Support Patrol Boats, and Communication Command Boats, and after having provided Mobile Riverine Force ships and craft, Coastal Surveillance Force and River Patrol Force craft with numerous battle damage repairs, Indra completed her mission in Vietnam and departed Cat Lo for her return trip to the United States. After making port calls at Hong Kong, Yokosuka, and Pearl Harbor, Indra arrived in San Diego on 4 December, marking the end of an eight-month deployment. Upon Indra's return to San Diego she came under operational control of Commander Amphibious Forces Pacific Fleet, and the administrative control of Commander Landing Ship Squadron ONE where she provided repair and support for landing craft and small boats of PHIBPAC units.
On 28 August 1969, during a change of command ceremony, Lt. Commander. Loren H. Cobb relieved Comdr. Del D. Boerner as Indra's commanding officer. On 29 August Indra departed San Diego with USS Caroline County (LST-525) and USS Sumner County (LST-1148) for deactivation at the Naval Inactive Ship Maintenance Facility in Orange, Texas. After stopping at Rodman, Panama Canal Zone Indra transited the Panama Canal and arrived in Orange, Texas on 19 September 1968, where deactivation activities began. On 30 January 1970, Lt. Commander. Loren H. Cobb was relieved as commanding officer by Lt. Commander. Fletcher L. Blackstock. On 27 May 1970, Indra was decommissioned and custody was transferred to the Commander Inactive Ship Maintenance Facility, Orange, Texas.
For her service in Vietnam the USS Indra and her crews were awarded the Navy Unit Commendation with stars. The NUC is the 2nd highest U.S. Navy unit award.
The Orange, Texas, Inactive Ship Maintenance Facility was closed in the mid-1970's, and Indra was towed to the Inactive Ship Maintenance Facility at James River, Virginia, where she remained until the early 1990's. In 1991, Indra was turned over to the North Carolina Division of Marine Fisheries for use as an artificial reef. She was towed to the Wilmington, North Carolina shipyard where she was subjected to extensive environmental cleanup and much of the superstructure was removed in preparation for her scuttling. During the latter stages of the shipyard work the U.S. Marine Explosive Ordnance Disposal team from Cherry Point, North Carolina, made frequent visits to Indra to determine the best possible locations to place C-4 explosive charges. On 4 August 1992, Indra was towed to a location approximately six miles off the coast of Atlantic Beach, North Carolina, where the U.S. Marine EOD team detonated six forty-pound charges in Indra that scuttled her in five minutes. Indra continues to serve her nation as an integral component of the marine ecosystem off the North Carolina coast and is a frequently visited site for sport divers. Indra's location is 76 degrees, 58 minutes, 30 seconds longitude, 34 degrees, 33 minutes, 55 seconds latitude and rests in sixty feet of water.
Awards earned during the Vietnam War: Navy Unit Commendation, RVN Gallantry Cross with Palm, RVN Civil Action Medal, First Class, with Palm, RVN Campaign Medal with 60's device and the Vietnam Service Medal with (2) Battle Stars.
Click HERE to view photos taken by CO CDR Del Boerner.