Luzerne County (LST-902)
January 29, 2001

511-Class Tank Landing Ship: Laid down on 5 November 1944 at Dravo Corporation, Pittsburgh, PA. She was launched on 16 December 1944 and commissioned USS LST-902 on 15 January 1945 at Algiers, Louisiana. LST-902 was decommissioned on 3 August 1946 at Portland, Oregon. She laid up in the Pacific Reserve Fleet, Astoria, Oregon for almost 6 years. LST-902 was re-commissioned on 18 January 1952 at Astoria and named USS Luzerne County (LST-902) on 1 July 1955. She was decommissioned once again on 30 November 1955 at Astoria, Oregon and laid up in the Pacific Reserve Fleet.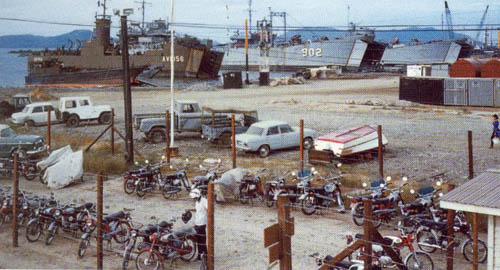 The Luzerne County (LST-902) was once again re-commissioned on 15 April 1963. She would see service during the Vietnam War. Here is a portion of an official declassified report:
"This month another re-supply LST, the USS Luzerne County (LST-902), came under enemy fire. The USS Westchester County (LST-1157) and USS Tom Green County (LST-1159) were attacked in previous months. At 1537 on 2 March, while enroute from Dong Tam to the My Tho anchorage, Luzerne County received automatic weapons fire and B-40 rockets. One life raft was destroyed as one B-40 hit the starboard side frame of the LST. Fire was returned and suppressed at 1540. No personnel casualties resulted. Luzerne County came under attack again at 2225 on 22 March while anchored with the Mobile Riverine Base at Dong Tam (XS 411 416). Six B-40 rocket rounds were fired from the south banks of the My Tho and automatic weapons fire was received from the western tip of Thoi Son Island. The LST returned fire for 10 minutes and a Light Helicopter Fire Team placed a strike on enemy firing positions. No casualties resulted although shrapnel was later found on Luzerne County."
Luzerne County earned two battle stars for the Korean War.
Here is a report from Seaman Salvador "Sal" L. Engolia Jr. who rode the Luzerne County (LST-902) back to the United States following her duty in the Republic of Vietnam:
"The Luzerne County (LST-902) did return from Vietnam service, I can vouch for that. We received orders telling us that we would be departing Vietnam and returning to the States at the end of April. We were to make one last run from our home port in 'Vung Tau' up the coast to Da Nang and depart from there to the States. In order for the crew to receive an extra month's combat pay, the captain decided to steam the coastline remaining in territorial waters of Vietnam until after the night of April 30, 1970. In route returning home, we stopped in Guam, the Philippines and Pearl Harbor for four days each. The entire trip back took approximately forty-five days and we sailed under the Golden Gate Bridge marking our entry to the US in mid June. After stopping off at a fuel pier in San Francisco (Where I departed the ship to travel home for twelve days leave) the 902 then made it's final trip over to Vallejo, California where it was scheduled to be decommissioned. After returning from leave, I discovered that the Navy had decided to scrap instead of decommission the 902. All equipment and just about anything moveable was taken off the ship and stored in a warehouse. All openings, hatches, stacks, etc. were sealed. The entire scrapping process took three weeks. I remained on board until the scrapping process was completed and after the final ceremony the 902 was struck from the Naval Register, August 12, 1970, final disposition, fate unknown. After completing processing for separation from active duty, I returned home to my family and have been wondering what happened to the 902 after that."
Luzerne County (LST-902) was struck from the Naval Register on 12 August 1970. Her final disposition and fate is unknown.
Awards earned during the Vietnam War: Combat Action Ribbon, (2) Meritorious Unit Commendations, RVN Gallantry Cross with Palm, RVN Civil Action Medal, First Class, with Palm, RVN Campaign Medal with 60's device and the Vietnam Service Medal with (12) Battle Stars.
Click HERE to read Shipfitter Roy Wagoner's account of his time on LST-902 during the Korean War.
Click HERE to view photos provided by U.S. Army 2nd Lt Sullivan Alois who was aboard in 1966 when the Luzerne County moved 82nd Airborne troops from the Dominican Republic to Norfolk, VA.
Click HERE to read a story and view photos by then LTJG , USNR, Jim Giles who believes the Luzerne County may have been one of the last Navy ships to raise sails.
Click HERE to view more photos by then LTJG, USNR Jim Giles.
Click HERE to view a newly acquired Meritorious Unit Commendation for Landing Ship Squadron TWO, which included the Luzerne County. – 5/31/09
Click HERE to view some of John Garza's Luzerne County photos. He serve aboard from 1967-68.
Click HERE to view some 1966 Luzerne County photos that John Garza acquired.
Click HERE to read what happened to the Luzerne County ships bell.  Information submitted by John Garza.