Recent Photos
Vietnam Photos
Pre-Vietnam
USS Nueces (APB-40) was laid down at Boston Naval Shipyard, Boston, Ma. 2 January 1945; launched 6 May 1945; sponsored by Mrs. Dorthy E. Dunnell; and commissioned 30 November 1945, Lt. Leonard I. Berkowitz in Command.
Nueces provided quarters for deactivation crews at Green Cove Springs, Fl. Her status changed March 1946 to inactive in commission but her service to the Atlantic Reserved Fleet Continued until 1947 when she was assigned to the 6th Naval District. She was decommissioned 30 September 1955 and at the end of the decade joined the mothballed ships at Orange, Tx.
During the escalating war in Vietnam operations to deny the communist forces use of the waterways in the Mekong Delta region of Vietnam brought her reactivation. She was converted to provide a mobile base for river patrol squadrons of the Mobile Riverine Force Task Force 117. As a command ship she supported army infantry battalions of the 9th Infantry Division.
Nueces was Re-commissioned 3 May 1968. Before the end of the year she crossed the Pacific Ocean and was positioned at Vung Tau prior to making her way up the river's and supporting the Mobile Riverine Force. The Nueces participated in many riverine born operations in support of the river boats of TF-117 and the Riverine Infantry of the 2nd Bde's 9th Infantry Division. She continued To support the Navy and Army forces in South Vietnam until August 1969. The USS Nueces has been converted to a auxiliary barge and her engines have been removed requiring her to be towed. She has been completely stripped of anything that resembles the APB's of Vietnam. Nueces and the USS Mercer (APB-39) are now in Sasebo Japan. She is being used as a berthing and messing barge. If anyone can provide us with a more complete history of the Nueces it would be most appreciated.
Additional History courtesty of MRFA member Joseph Lewis
17 Oct 69 – Arrived Long Beach for inactivation
13 Mar 70 – Placed OCIR "Out of Commission in Reserve" at Long Beach.
16 Apr 70 – Arrived under tow at NISMF (Naval Inactive Ship Maintenance Facility) San Diego.
19 Aug 74 – Departed under tow USS Moctobi (ATF-106) for assignment to Supervisor of Shipbuilding, Conversion and Repair, Seattle (was berthed at WISCO, Portland, OR as of Oct-Nov '74).
June 2, 1999 Nueces Update:
Subject: USS NUECES
Date: Wednesday, June 02, 1999 6:50 PM
Gentlemen,
Greetings from the Land of the Morning Sun, Japan. My name is Ray Prospero and I'm the maintenance manager aboard the Nueces presently home ported in Yokosuka, Japan. I would like to make a correction on the latter part on the write-up regarding her engines. Her diesel engines are still intact and haven't been touched, and we're in the process of the de-gutting the boiler and evaporator room to turn the space into a fitness center for the crew who will be living onboard. The Nueces overall is in very good shape for a 54 year old lady. I'm very much interested in copies of any old photos that you might have on file. I'm planning to dedicate a bulkhead or a room and turn it into a small Nueces museum to show the young sailors her accomplishments. Thank you very much. Please feel free to send an e-mail if you have any questions regarding "The Fighting IX-503, The Nueces."
Ray Prospero
Production Control Specialist
U.S. Naval Ship Repair Facility
Yokosuka, Japan
Awards for Vietnam Service: Combat Action Ribbon, Presidential Unit Citation, RVN Gallantry Cross with Palm, RVN Civil Action Medal, First Class, with Palm, RVN Campaign Medal with 60's device and the Vietnam Service Medal with (4) Battle Stars.
Update: February 24, 2007
From Norvall Holly:
"As some of you aware Woody Stegall LCDR USN (Retired) the last Commanding Officer of the USS Nueces has been in touch with me and has provided a few new pictures for the website. The first set of the Change of Command in 1969 and just tonight the Ships Seal and the cloth patch. He had to go into his attic and look for them but they are now here for you to see. A challenge has been placed in our laps. Mr. Stegall has offered to turn over the Plaque to be possibly placed and displayed aboard the IX 501 (USS Nueces). We need to find some way to get it over to Japan by being transported aboard a Navy ship that is heading over to Japan or by some other means. Does any one have any ideas on how we can get this accomplished? The Plaque weighs almost 20 pounds. Please let me know of your thoughts and ideas and I will keep everyone informed."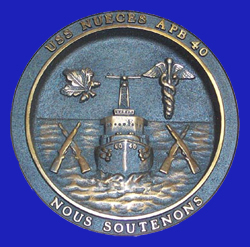 The USS Nueces today as APL-40
Click HERE to view pictures from Wesley E. Reed (QM2/c – WW2) who was a crewman when the USS Nueces (APB-40) was commissioned in 1945.