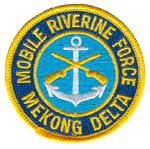 History of The USS Sphinx (ARL-24)
December 11, 1998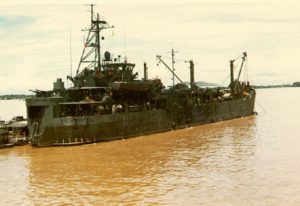 USS Sphinx (ARL-24) was laid down as LST-963 on 20 October 1944 by the Bethlehem Steel Co. Hingham, MA. Named Sphinx and re designated AR-24 on 11 September 1944; launched on 18 November 1944; converted into a landing craft repair ship at the Merrill Steven's Dry-dock, Jacksonville, FL.; and commissioned on 10 May 1945.
On 12 June, she sailed for the West Coast; transited the Panama Canal on 23 June; and proceeded via San Diego, to San Francisco. Sphinx arrived in Pearl Harbor on 21 July and repaired craft there until 27 August when she sailed for Adak, Alaska. Before she reached Adak, her sailing orders were modified, routing her to Japan. She arrived at Mutsu Bay, Honshu, on 14 September and began repairing and refitting minesweepers. Sphinx moved to Yokosuka on 20 November and sailed for Saipan on 3 December 1945. She operated in the central Pacific islands until entering Pearl Harbor on 9 January 1947 en route to the west Coast for decontamination. The ship had participated in Operation 'Crossroads' the atomic bomb test at Bikini Atoll in the Marshall's from early April to 29 August 1946.
Sphinx arrived At San Pedro, Calif., on 22 January where she was decontaminated and prepared for inactivation. She was placed out of commission, in reserve, on 26 May 1947. She was re-commissioned on 3 November 1950. She stood out of San Diego on 17 August 1951 and proceeded via Pearl harbor to Japan. Sphinx arrived at Yokosuka on 29 September. During this time she repaired and serviced fleet units that were being used in Korea. The ship returned to San Diego on 4 June 1952 and operated along the west coast during 1955, and on 31 January 1956 was again placed out of commission, in reserve, and berthed in San Diego.
She was towed to New Orleans, La. In February, and on 16 December 1967 placed in commission. The ship sailed for the west coast on 8 January 1968 and arrived at San Diego on 23 February. On 22 April, Sphinx and Cohoes (AN-78) sailed for the western pacific. The ships made port at Pearl Harbor, Kusaie, Guam, and Subic Bay. Sphinx sailed independently from there on 6 June and four days later arrived at

Vung Tau, South Vietnam. Sphinx moved to Dong Tam on 11 June. The repair ship was on a non-rotating basis, and during 1969 had very little time underway. She operated in the Tien Giang and Ham Luong rivers, providing services and support for the river boats of TF-117, as they engaged in operations against the Viet Cong. The ship sailed from Vietnam on 21 June for a yard period at Sasebo and returned on 25 August. Upon her return to Vietnam Sphinx operated along the Vam Co River, and also developed helicopter capabilities, handling 50 landings before 31 December 1969. She remained in Vietnam until 14 December 1970 when she weighed anchor for a yard period at Yokosuka. On the last day of the year, the ship lost power in both main engines and was adrift 340 miles south of Sasebo. On 2 January 1971, USS Chipola (AO-63) took her under tow for Sasebo, where she was repaired. Sphinx was back off Vietnam on 11 March and remained there until sailing for the west coast several months later. She arrived at Bremerton, Washington. On 2 July and prepared to rejoin the reserve fleet, out of commission and berthed at Bremerton into December 1984.
Sphinx was called back to service in early 1985 and re-commissioned. After leaving Bremerton, WA, her new homeport of record was Key West, FL. Sphinx never saw Key West as the ship was immediately assigned to a permanently forward-deployed status off the west coast of Central America. She did not return to Little Creek until her decommissioning in 1989. For all practical purposes her homeport was Rodman, Panama.
Awards earned during the Vietnam War: Combat Action Ribbon, Presidential Unit Citation, (2) Navy Unit Commendations, RVN Gallantry Cross with Palm, RVN Civil Action Medal, First Class, with Palm, RVN Campaign Medal with 60's device.