History of The YRBM-17 (Vietnam)
November 18, 1999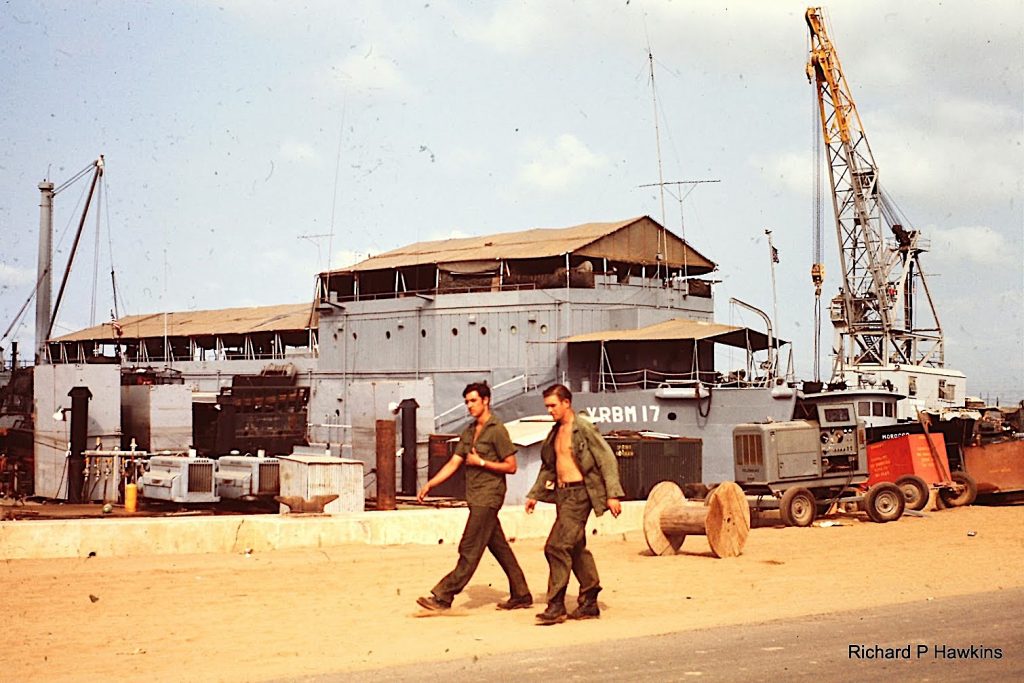 YRBM-17 was retrofitted from the YFNB-24 in a small shipyard south of Yokosuka, Japan. The YFNB was what the navy classified as a large covered lighter. It was a non-propelled barge with a length of 260 feet and a beam of 48 feet. This construction took from late 1966 to March of 1967 and upon completion it was towed to Yokosuka, Japan for final preparations for duty with the Mobile Riverine Force in South Vietnam.
The sole purpose of this retrofit was to make the YFNB-24 a floating repair center for the specialized boats of the navy's newly formed Mobile Riverine Force or River Assault Flotilla One in the Delta region of South Vietnam. Generators and switchboards were added to supply the power to all the different shops that would be needed. This included engine repair, electronic, electrical, welding, machine shop and an armory for weapons repair. Modern galley and refrigerated storage areas and air-condition berthing spaces were also part of the retrofit.
In late March 1967 the YFNB-24 was towed to Vung Tau with a skeleton crew onboard. She was only in Vung Tau a short period just long enough to pick up the remainder of her crew and additional stores once this was completed she proceeded up the Mekong River to the Army base at Dong Tam. It was shortly thereafter that her designation was changed from YFNB-24 to YRBM-17, which reflected her mission (YRBM Yard Repair Messing Berthing).
During the first 6 weeks after the YRBM-17's arrival a number of things had to be done to ensure that she could perform her mission. The 100 ton floating crane YD-220 and numerous barges were brought in so that the ATCs, Monitors and ASPB's could be hauled out of the water for hull and propulsion repairs. Communications gear had to be installed as well as water purification systems. At the same time the navy portion of the base was being constructed at a rapid pace, until the base galley and mess hall was completed the YRBM- 17 was called upon to feed around 300 people three times per day.
In June of 1967 things started coming together for the crew of YRBM-17, the new boats began arriving in ever increasing numbers. At first most of the work performed on the boats were modifications such as experimental mine seats for the Tango boats and weather stripping around the gun turrets to help keep out rain from the upcoming monsoon season. As the boat operations began the crew became very busy repairing the boats, due to battle damage and normal maintenance.
The YRBM-17 and Dong Tam Base were not immune to enemy action. Five days after her arrival YRBM-17 experienced her first attack. Mortar rounds walked around the basin and base but never found their mark. Every night concussion grenades were tossed in the water around YRBM-17 to protect it from swimmers that might attach a mine to the hull. At first it was hard for the crew to get a good nights sleep, but after the mining of YRBM-16, in Tan Chau in November 1967, it became a very comforting sound. After numerous mortar attacks the crew thought they had a early warning system in place for these attacks. There was a small village at the entrance of the boat harbor at Dong Tam and if any of the crewmembers saw the Villagers leaving just before dark, they would pass the word to be on alert that night. As it turned out it was pretty accurate.
During the TET offensive of 1968 YRBM-17's luck ran out. The Dong Tam base was being hit two or three times a night by enemy fire. One night an unknown type of round was fired from the Mekong River side of the base. It penetrated the large steel sliding door in the machine shop. It's effect was somewhat lessened as it hit a large storage rack of steel and brass shafts, but still threw off enough shrapnel to wound seven crewmembers, one seriously. On May 30 68, YRBM-17 was hit again by a 120mm round, wounding nine of her crewmen.
Early in 1968 the navy finished installing floating dry docks on the navy side of the basin and YRBM-17 was moved in-between them. This enabled the crew to perform their work faster as the ever-increasing volume of work required. It was also during this time that YRBM-17 began installing the flame thrower systems on the Zippo's. Through out the rest of 68 and into early 69, it was pretty much business as usual for the crew. It meant working 7 days a week and making their best effort to give the boat crews what the needed to perform and complete their missions…
In late spring or early summer of 1970 YRBM-17 was pulled out of Dong Tam and towed to Sasebo Japan for a scheduled overhaul. On the way to Sasebo the fleet tug towing her and YRBM-17 were hit by a typhoon, causing considerable damage. Some of the superstructure had been torn away by the pounding of the sea. After her overhaul YRBM-17 was towed back to Dong Tam. Based on the information I have, this probably would have been mid to late summer of 1970. The YRBM-17 was turned over to Vietnamese Navy in December 1970. In January of 1971 YRBM-17 was towed up river to Tan Chau and given a new hull designation of HG-9610. There is no official record of YRBM-17 ever existing as there is on some of the other YRBM's. To all of us who served on her, the memories are real and will forever be etched in our hearts and minds. We performed a very important function to the Mobile Riverine Forces in the Mekong Delta and did so with pride and distinction. A special thanks to all of YRBM-17 crewmembers, who took the time to contribute information. With out it, this bit of history may never have been preserved.
This YRBM-17 information was submitted by 1967-68 crewmember Doug Lindsey. Please contact Doug at vermin250@aol.com for any additional information you may have on the YRBM-17.
Awards earned during the Vietnam War: Navy Unit Commendation, RVN Gallantry Cross with Palm, RVN Civil Action Medal, First Class, with Palm, RVN Campaign Medal with 60's device and Vietnam Service Medal.