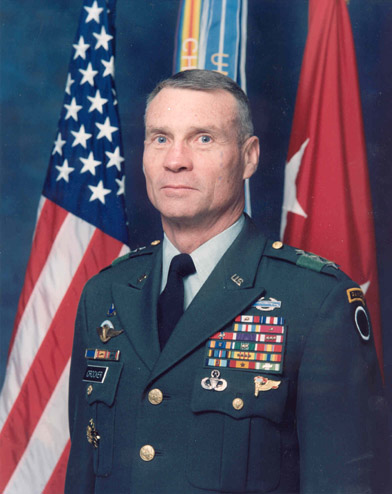 George Crocker is a native son of Russellville, Arkansas. He attended public schools, including one year at the University of Arkansas, Fayetteville, where he was a member Sigma Nu Fraternity and Army ROTC.
In 1962 Crocker was appointed to the United States Military Academy, West Point, NY. Graduating in 1966 with a Bachelor of Science degree, he was commissioned as a 2d Lieutenant of Infantry and began a military career that would span the next thirty three plus years. Following graduation, he married the former Vonda Jones of Little Rock, AR. George and Vonda have been married for forty years and have three children and four grandchildren.
LTG Crocker's military career includes two combat tours in Vietnam, first as a rifle platoon leader with 3d Platoon, "C" Company, 3d Bn, 47th Infantry, 9th Infantry Division, (Mobile Riverine Force) and second tour, with the RVN 42d Ranger Battalion, Can Tho.
Other assignments included overseas tours in Germany and Panama, a tour in the Pentagon, a tour as staff and faculty, U.S. Military Academy, and a variety of other command and staff positions. LTG Crocker served five separate tours of duty in the 82d Airborne Division, Fort Bragg, NC. In the 82d, he commanded at the company, battalion, brigade and division levels. He also served as operations officer and executive officer at every level within the division. His deployments with the division include: Operation GARDEN PLOT, the Martin Luther King assassination riots (1968), Washington, DC; Operation URGENT FURY (1983), Grenada; Operation GOLDEN PHEASANT (1988), Honduras; and numerous world-wide Joint and Combined training exercises. He was the division's Chief of Staff during Operation JUST CAUSE (1989-90) Panama.
In 1991, LTG Crocker was promoted to Brigadier General, and appointed Commander of the Special Operations Command, Pacific. His subsequent assignments as a General Officer were Commander, U. S. Army, South , Fort Clayton, Panama, Commander, 82d Airborne Division, Fort Bragg, NC and Commander I Corps and Fort Lewis, WA.
Characterized as a direct and decisive leader of integrity and character, LTG Crocker is adept at creating organizational climates where human and corporate potential is maximized. He has extensive, hands-on experience in leadership, strategic planning, program development, complex operations, multidisciplinary training, resource management and logistics. He is considered one of a handful of senior experts in all phases of airborne operations.
His qualifications include: Ranger, Master Parachutist, Pathfinder, Static-Line Jumpmaster, Expert Marksman and continuous Physical Fitness Excellence winner. His military schools include the Ranger, Airborne, Pathfinder and Vietnamese Ranger courses, Infantry Advanced Course, U. S. Army Command and General Staff Course, The Army War College and The Capstone Flag Officer Course. He also holds a M.Ed. from Duke University, Durham, NC. His awards and decorations include the DSM (OLC), Silver Star, Defense Superior Service Medal, Legion of Merit (OLC), Bronze Star (OLC), Purple Heart, Combat Infantryman's Badge, Master Parachutist Badge, Ranger Tab, Pathfinder Badge, Army General Staff Identification Badge, four foreign airborne badges and the Vietnamese Ranger Badge.
Current hobbies include family activities, reading and jogging. He enjoys a variety of boating and water sports as well as motorcycling. LTG Crocker is also an avid alpine skier.
Since retiring as a Lieutenant General in November 1999, George Crocker was employed by Cubic Applications Inc. as a Senior Mentor in the Army's Battle Command Training Program. In 2002, working for MPRI he led a team of experts to Afghanistan to develop an Action Plan for the development of the Afghan Armed Forces. From 2003-2004, LTG Crocker served as Program Manager for the Army's New Iraqi Army Training Project at Kirkush, Iraq. (Camp Caldwell) He is currently Director of National Security International Operations element for Northrop Grumman's Technical Solutions Sector in Fairfax, Virginia.