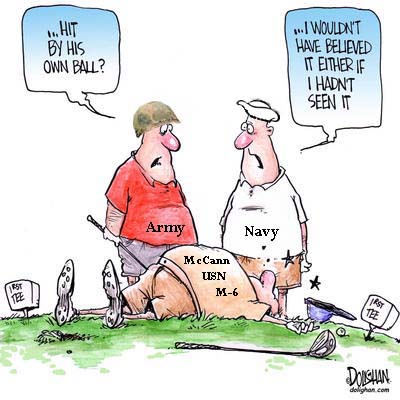 Join us at the MRFA & 9th Infantry Division Reunion
AUGUST 31, 2007
All Members and their Guests are invited to join us for 18 holes of Golf. Ladies are Welcome. Where: Bluff Creek Golf Course – 2710S. Old 37, Greenwood In 46143 – (317) 422-4736 Fax (317) 422-5571
When: August 31st at 10 am tee time – Shotgun Start, Scramble Format, Foursomes, with each player having one drive count on the front and back nine holes regardless of distance. The course will take care of the start, Fun Holes and Final Scoring for us.
Uniform of the Day: Hawaiian Shirts and Bermuda Shorts. Cigars are Optional. Let's look festive because it will be "5 O'Clock Somewhere" (Alan Jackson/Jimmy Buffet song).
Food: Each player will be issued (3) Food Chits, ("Tickets" for you Army guys) to spend on chow at the turn. There will be Burgers, Brats, Hotdogs and Chips with Cold Drinks. The drinks are free.
Registration: Dave McCann and Lee Daley will work with Bluff Creek on providing a person on Wednesday August 29 and Thursday August 30th to be at the Adams Mark Hotel for pre-registration. Dave and Lee will also be at the booth to help answer all questions.
Players can also Register the day of the Tournament at the golf course. We will go out of our way to keep players in Foursomes who want to play together. Cost: $40.00 per player for 18 holes of golf, which includes a Cart. – PLUS MUCH MORE ! What else do you get for the money? Just as soon as you pay and are issued your Chits, you can hit the Driving Range at Bluff Creek for Unlimited practice balls. Yep, if you pay on Wednesday, you can practice at the driving range for two days, if you need that much practice? If you want to play the course before the Tournament that will be a separate cost not associated with our outing but the price will be reasonable for our members and guests, very reasonable.
Prizes: There will prizes provided for (3) "Fun Holes" . There will be two Closest to the Pin on 9 and 16. The 18th hole will be called the "PBR Hole" as the local Pabst Blue Ribbon distributor will be donating some gifts. It will also be designated the Longest Drive hole. More prizes for the Best Foursome. We will announce the tournament winners (foursome) at the reunion that night as part of the activities, with outstanding prizes awarded to each of the four players.
Beverages: With the price of the tournament there is "Unlimited Beverage Cart Privileges". There will be plenty of water, soda and adult beverages available out on the course.
Images of Bluff Creek Course
Logo Golf Balls: A "Sleeve" of (3) Logo Balls will be issued to each player at time of registration – Either 9th Infantry Division or MRFA logo. Update: "We have Balls", as Dave McCann stated shortly after they arrived. Shuttles: We are still working with the Adams Mark. People needing rides to the course and back to the hotel can check in with us at registration on Wednesday and Thursday. We will get the players to the course and back home. Adams Mark will still have a slight charge per person per van. I believe there will be guests who will also want to take players to the course in their own vehicles? Someone has already asked me about that.
Contacts for the event are:
David G. McCann (M-6) – bdalmcc@bresnan.net – (406) 442-8168
Orville "Lee" Daley (USS Askari) – leethebaker@gmail.com